Zuko the Prophet (新鋭ズッキルト, Shin'ei zukkiruto?) is a Scout Ace found in Valkyria Chronicles 4. He is a stand-in for Thane the Cadet in Normal Skirmish 2, and has the same item drop but inferior stats.
Gameplay
Zuko starts out in almost the same place as Thane, but is out in the open with his back to the most likely point of entry for the player's units, making him extremely easy to take down.
He is basically an off-brand version of Thane with slightly less health and accuracy, and without the benefit of standing directly in front of an invincible Heavy Imperial Tank.
Since he wields a duplicate weapon, killing him is not actually necessary to getting the "Excellence in Armament" Medal if Thane the Cadet has already been defeated.
Stats and equipment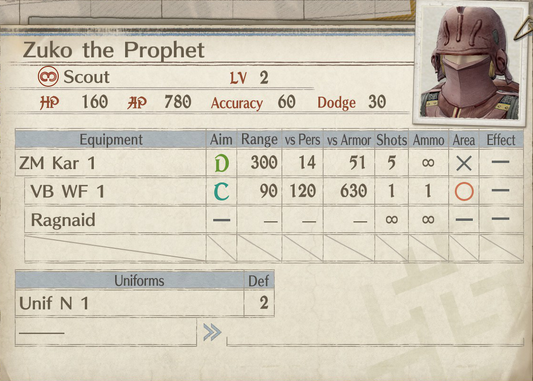 Has 10 total defense.
Location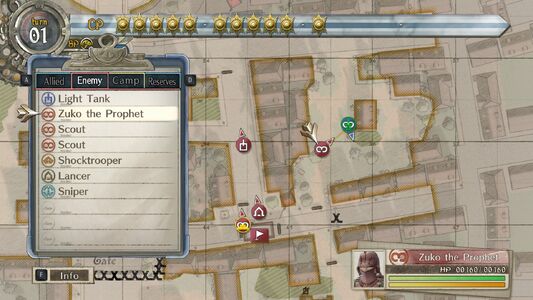 Zuko has turned around to face Odin here, his default position is looking towards the bottom of the map.
Reward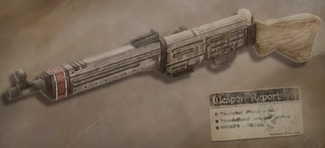 Defeating him rewards the player with a ZM Kar 1(e), a low-level Imperial Rifle shorter-ranged and less accurate but vastly more powerful than the ZM Kar 1 he uses himself.
Like all captured Imperial rifles, it trades range and accuracy for greater vs Pers hitting power.
This is the same item drop as his counterpart, Thane the Cadet, meaning the player can have two of these rifles in stock.
| Equipment | Aim | Range | vs Pers | vs Armor | Shots | Ammo | Area | Effect |
| --- | --- | --- | --- | --- | --- | --- | --- | --- |
| ZM Kar 1(e) | E | 180 | 37 | 45 | 5 | ∞ | X | - |
Community content is available under
CC-BY-SA
unless otherwise noted.