Zivilyn the Bane

Jester Mooney gets an entirely too close look at Zivilyn the Bane's Lance.
Information
Affiliation
East Europan Imperial Alliance
Weapon Drop
VB PL 2(e)
Voice Acting
Japanese
Not voiced
English
Not voiced
Zivilyn the Bane (無敗のサヤカル, Muhai no sayakaru?) is a Lancer Ace found in Valkyria Chronicles 4. He appears in the Squad Story mission "Gambler's Ruin" hiding in a grassy area in the battle mission The Roguish Patient.
Gameplay
Zivilyn is hiding in an area of long grass at the top of the hill on the right side of the Command Mode map, with an Engineer hiding in the grass next to him. He tends to avoid moving from this location unless disturbed.
Since he is a Lancer, Connor Doherty's mortar is of little use in getting rid of him: it is far better to have one of the Scouts throw a grenade at him to stand him up, and then stroll around behind him and shoot him. As a Lancer, he will not turn to follow them.
Killing Zivilyn is actually mandatory, since the mission objective is to kill all enemies.
Stats and equipment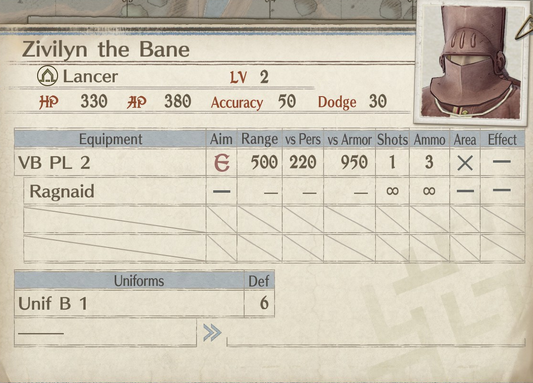 Has 18 total defense.
Location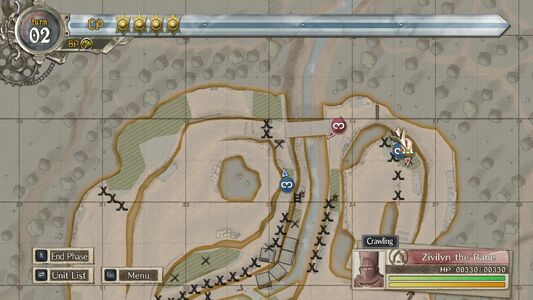 Reward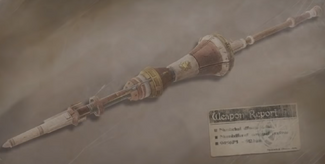 Defeating him rewards the player with a VB PL 2(e), an Imperial Lance shorter-ranged, but more accurate and powerful than the basic VB PL 2 he uses himself.
It is far more powerful than anything the player is likely to have to at the stage of the campaign where they will probably unlock this Squad Story, though it must be used at very close range to deal with both its own low accuracy and the low accuracy of Lancers themselves at this stage.
| Equipment | Aim | Range | vs Pers | vs Armor | Shots | Ammo | Area | Effect |
| --- | --- | --- | --- | --- | --- | --- | --- | --- |
| VB PL 2(e) | D | 400 | 130 | 1200 | 1 | 3 | X | - |
Trivia
His English name is a reference to Skies of Arcadia: "Zivilyn Bane" was a group of bandits that attacked the heroes on many occasions.
Community content is available under
CC-BY-SA
unless otherwise noted.