These are the other appearances for Zeri, a character from Valkyria Chronicles 2.
Other appearances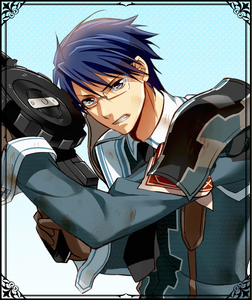 Zeri appeared as an obtainable character. His likes included Avan Hardins, Cosette Coalhearth and Juliana Everhart
His card visuals amounts to 16 cards. Cameos in other card visuals or repeated instances of the visual are not included in the amount.
Cards
<tabview> Template:VCDCard-ZeriUC|Uncommon Template:VCDCard-ZeriR|Rare Template:VCDCard-ZeriSR|Super Rare Template:VCDCard-ZeriL|Legendary Template:VCDCard-ZeriUR|Ultra Rare Template:VCDCard-ZeriP|Promotional </tabview>
Cameos
<tabview> Template:VCDCameo-ZeriR|Rare Template:VCDCameo-ZeriSR|Super Rare Template:VCDCameo-ZeriL|Legendary Template:VCDCameo-ZeriUR|Ultra Rare </tabview>
Non-Valkyria Chronicles series appearances
Samurai & Dragons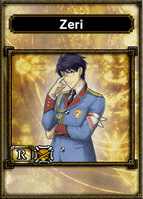 Zeri makes an appearance in Samurai & Dragons as a R monster card. As a R monster card, Zeri is of the Mercenary race and possesses the unique base skill, Pride of the Darcsen.
Community content is available under
CC-BY-SA
unless otherwise noted.