Yorde the Poet (詩聖ヨーダー, Shisei yōdā?) is a Scout Elite Ace found in Valkyria Chronicles 4. He is part of the Imperial force assisting Crymaria Levin during the battle mission Showdown with the Valkyria.
Gameplay
Yorde is located at an Imperial camp straight across the main expanse from Squad E's base camp, and is visible from the start of the mission.
It is possible to snipe him from the starting location, though his evasion can make this a somewhat tricky proposition in practice. Otherwise, the only real option is to work around the map to reach him: the left side of the map allows passage by tanks up to a point, while the right side is infantry-only. Both sides are heavily defended and have base camps which will call in extensive reinforcements: the right path is also heavily mined.
Stats and equipment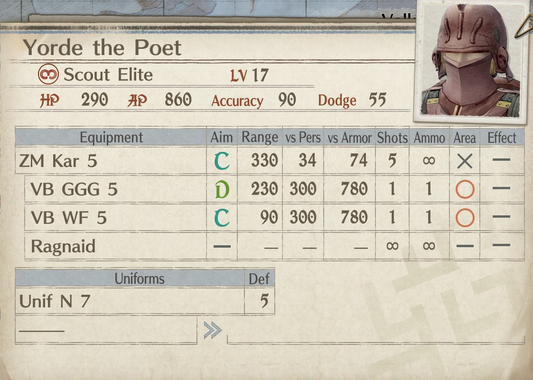 Has 20 total defense.
Location
Reward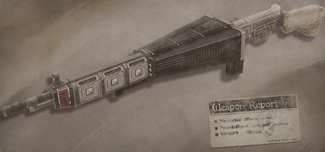 Defeating him rewards the player with a ZM Kar 5(e), a high-level Imperial Rifle shorter-ranged and less accurate but vastly more powerful than the ZM Kar 5 he uses himself.
Like all captured Imperial rifles, it trades range and accuracy for greater vs Pers hitting power.
The Scout Ace Quil the Gunsmith in Normal Skirmish 10 shares Yorde's weapon drop, despite that he is standing in for Gambit Zanatos in this map.
| Equipment | Aim | Range | vs Pers | vs Armor | Shots | Ammo | Area | Effect |
| --- | --- | --- | --- | --- | --- | --- | --- | --- |
| ZM Kar 5(e) | D | 220 | 59 | 65 | 5 | ∞ | X | - |
Trivia
The model for the ZM Kar 5(e) is also used for the ZM Kar 6(e), ZM Kar 7(e), ZM Kar 8(e) and ZM Kar X(e).
Community content is available under
CC-BY-SA
unless otherwise noted.