Yümad the Blade

Raz prepares to gun down Yümad the Blade.
Information
Affiliation
East Europan Imperial Alliance
Weapon Drop
ZM MP 3(e)
Voice Acting
Japanese
Not voiced
English
Not voiced
Yümad the Blade (帝国剣ヤマド, Teikoku ken yamado?) is a Shocktrooper Elite Ace found in Valkyria Chronicles 4. He appears in Normal Skirmish 6: The Crystal Sea, and is more or less just slightly upgraded copy of the non-Elite Shocktrooper Ace Comrade Harasky.
Gameplay
Yümad is located below and to the right of the area marked "Crevasse" on the Command Mode map, almost directly below the Imperial base flag. All of his stats are slightly upgraded except, strangely, his AP: he has the AP of a regular Imperial Shocktrooper rather than an Elite.
The easiest way to defeat him is to move a unit down the left side of the map (which is totally unoccupied in this Skirmish) in order to target him from behind through the gaps between the ice spikes. Since he is a Shocktrooper and so has limited peripheral vision, the player can also have their units use the shorter path down the ice tunnel near the enemy base flag, transitioning to the left side of the map using the small bridge under the "Crevasse" label.
Since he wields a duplicate weapon, killing him is not actually necessary to getting the "Excellence in Armament" Medal if Comrade Harasky has already been defeated.
Stats and equipment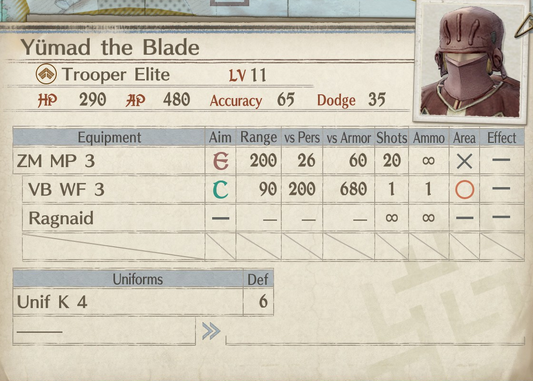 Has 20 total defense.
Location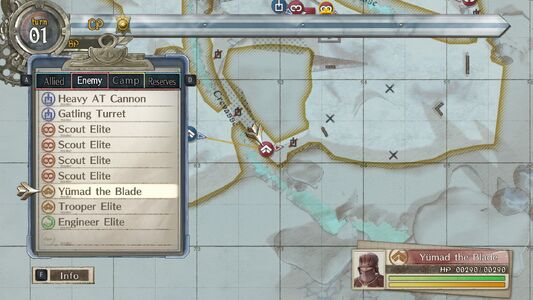 Reward
Defeating him rewards the player with a ZM MP 3(e), a low-level Imperial Machine Gun with the range almost halved compared to his own ZM MP 3, but much higher vs Pers damage and slightly improved accuracy.
Like almost all captured Imperial Machine Guns, it trades range and accuracy for greater vs Pers hitting power.
The Shocktrooper Ace Comrade Harasky in the Squad Story Unfortunate Souls shares Yümad's weapon drop, meaning the player can have two of these weapons in stock.
| Equipment | Aim | Range | vs Pers | vs Armor | Shots | Ammo | Area | Effect |
| --- | --- | --- | --- | --- | --- | --- | --- | --- |
| ZM MP 3(e) | D | 120 | 38 | 53 | 20 | ∞ | X | - |
Community content is available under
CC-BY-SA
unless otherwise noted.