Xeda the Operator

Xeda experiences the results of letting the Hafen sneak up on him.
Information
Affiliation
East Europan Imperial Alliance
Weapon Drop
ZM Kar 3(e)
Voice Acting
Japanese
Not voiced
English
Not voiced
Xeda the Operator (シーダ無線手, Shīda musen-te?) is a Scout Elite Ace found in Valkyria Chronicles 4. He appears in Normal Skirmish 7: Warehouse District, and is more or less a copy of the Scout Elite Ace Supersonic Marath.
Gameplay
Xeda is located midway along the vertical path on the left-hand side of the map as viewed in Command Mode, straight up from the Imperial base camp. Despite being three levels higher than his counterpart, he has somewhat downgraded health and a vastly inferior dodge rating. However, he, wears better armor, and has significantly higher accuracy.
Defeating him is a fairly simple matter of either getting the Hafen close enough to use the Ship Order "Bombardment" on him, or turning and shooting him.
Since he wields a duplicate weapon, killing him is not actually necessary to getting the "Excellence in Armament" Medal if Supersonic Marath has already been defeated.
Stats and equipment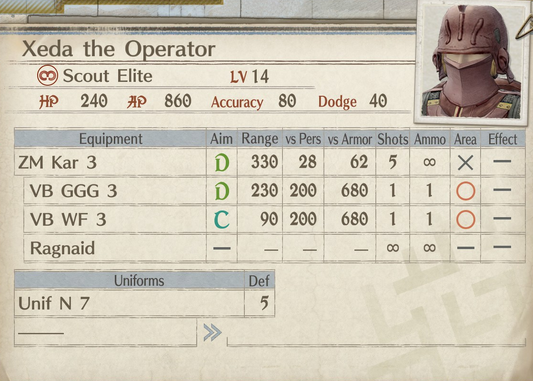 Has 15 total defense.
Location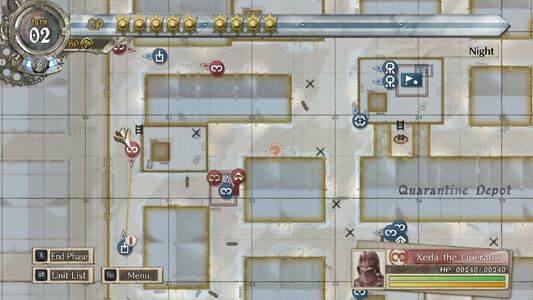 Reward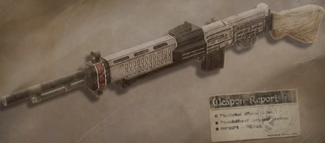 Defeating him rewards the player with a ZM Kar 3(e), a mid-level Imperial Rifle shorter-ranged and less accurate but vastly more powerful than the ZM Kar 3 he uses himself.
Like all captured Imperial rifles, it trades range and accuracy for greater vs Pers hitting power.
The Scout Ace Supersonic Marath in Chapter 8: The Crystal Sea - Part 2 shares Xeda's weapon drop, meaning the player can have two of these weapons in stock.
| Equipment | Aim | Range | vs Pers | vs Armor | Shots | Ammo | Area | Effect |
| --- | --- | --- | --- | --- | --- | --- | --- | --- |
| ZM Kar 3(e) | E+ | 180 | 46 | 55 | 5 | ∞ | X | - |
Trivia
His Japanese title is operator as in "radio operator" rather than in the military sense.
Community content is available under
CC-BY-SA
unless otherwise noted.