Volatile Monamor (熱血ミナムール, Nekketsu minamūru?) is a Shocktrooper Ace found in Valkyria Chronicles 4, and the first Shocktrooper Ace encountered in the game. He is part of the force stationed in the forest in the battle mission Nocturnal Reconnaissance.
Gameplay
Monamor is found hiding under a tree behind a building towards the end of the right-hand side of the map, just before the second Grenadier. He is facing in a slightly awkward direction which means a shot from directly below him on the Command Mode map may not end up counting as a Surprise Attack.
That said, his dodge rating of 20 means even attacks that do not take him by surprise are likely to kill him. He is only really dangerous if the player's right-hand side force does not include a Scout to spot him, and the player's soldiers wander by without noticing him.
Stats and equipment
Has 10 total defense.
Location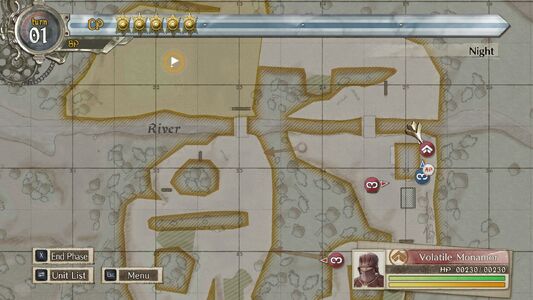 Reward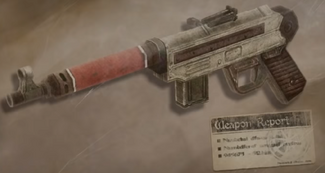 Defeating him rewards the player with a ZM MP 1(e), a low-level Imperial Machine Gun with the range shortened to an absurd degree compared to his weapon (given grenades have a range of 90, a Shocktrooper could literally throw the bullets further) but over double the vs Pers damage and slightly improved accuracy.
Like almost all captured Imperial Machine Guns, it trades range and accuracy for greater vs Pers hitting power.
The Shocktrooper Ace Larz the Reaper in Normal Skirmish 3 shares Monamor's weapon drop, despite that he is technically standing in for Tankbuster Nämy on that map.
| Equipment | Aim | Range | vs Pers | vs Armor | Shots | Ammo | Area | Effect |
| --- | --- | --- | --- | --- | --- | --- | --- | --- |
| ZM MP 1(e) | E+ | 80 | 33 | 45 | 20 | ∞ | X | - |
Community content is available under
CC-BY-SA
unless otherwise noted.