Vice Chief Chemis

Claude Wallace finds Chemis
Information
Affiliation
East Europan Imperial Alliance
Weapon Drop
ZM Kar 8(e)
Voice Acting
Japanese
None
English
None
Vice Chief Chemis is a Scout Paragon ace in Valkyria Chronicles 4. He is found in the fifth Expert Skirmish mission A Night-Shrouded Liberation.
Gameplay
Vice Chief Chemis is found in the SE area of the map, just around the corner of the Imperial camp and north of the manhole.
He carries a modified ZM Kar 8 that has increased range and damage compared to the ones on other scouts, though he actually has less innate accuracy compared to them. He can take action and attack units that are in his attack range.
Because he is facing towards the path where a searchlight is going, the player can clear the units nearby defending the camp and go behind him for an easy surprise attack.
Stats and equipment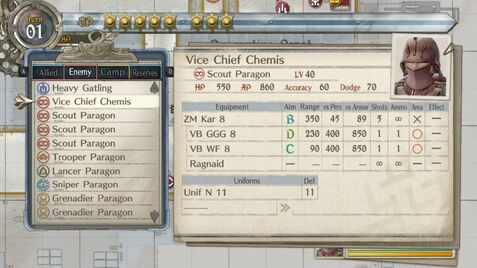 Has 30 total defense.
Location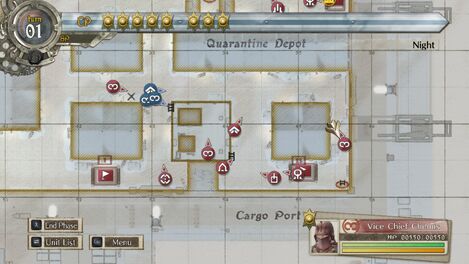 Reward
Defeating him drops the ZM Kar 8(e), a short ranged but hard hitting Imperial rifle. It has less accuracy, range, and vsArmor compared to the rifle he wields, but it does double the damage vs personnel. Oddly enough despite being a direct upgrade to the ZM Kar 7(e), it does 5 less vsArmor.
| Equipment | Aim | Range | vs Pers | vs Armor | Shots | Ammo | Area | Effect |
| --- | --- | --- | --- | --- | --- | --- | --- | --- |
| ZM Kar 8(e) | C | 230 | 90 | 70 | 5 | ∞ | X | - |
Trivia
The ZM Kar 8(e) uses the same model as the ZM Kar 5, 6, & 7.
Community content is available under
CC-BY-SA
unless otherwise noted.