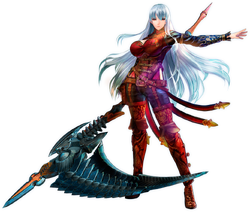 The Valkyrur in Valkyria Revolution is a magical being from ancient times possessing near limitless power. Brunhilde, one of the last remaining Valkyrur is summoned into existence by the Ruzhien Empire.
It has been mentioned in Europan history that the success and glory of previous Europan rulers have always been attributed to the presence of a Valkyria in their ranks.
Information
The Valkyria is an incorporeal being summoned into existence by use of a human vessel. A contract can be extended to the Valkyria which binds her to the artifact used to summon her in exchange for a shared consumption of the contracted's life-force. In return, the Valkyria can be controlled using the artifact and will remain obedient to the contracted unless otherwise defeated.
Abilities
In battle, the Valkyria's entrance is signified by the sight of an aurora borealis in the night sky. A blue glyph manifests and allows the Valkyria to enter the area.
Brunhilde displays the capabilities of decimating enemy armies with the power of her voice. Her singing causes soldiers to enter a pseudo-fugue state, either weakening their resolve and battle abilities completely or rendering them fully unable to move. She also wields a scythe that allows her to unleash a blue beam with which to eradicate her enemies.
List of Valkyrurs
This is the list of true Valkyrur in the game series:
Gallery
Community content is available under
CC-BY-SA
unless otherwise noted.