Valiant Condor

Zaiga sneaks up on Valiant Condor
Information
Affiliation
East Europan Imperial Alliance
Weapon Drop
ZM MP XD(e)
Voice Acting
Japanese
None
English
None
Valiant Condor is a Trooper Elite ace found in Valkyria Chronicles 4. He is found in the second mission of A Captainless Squad DLC, Snowball Fight.
Gameplay
Valiant Condor is a part of the group escorting Crymaria, and can be found in the same corner in the NE where Toma the Magus was at in the story version of this map. Because he is facing the west end of the passage, it's easy to go through the south end to get behind him and negate his dodge chance.
He will not move unless a unit is within his attack range.
Defeating him is required in order to reach the final map of the DLC.
Stats and Equipment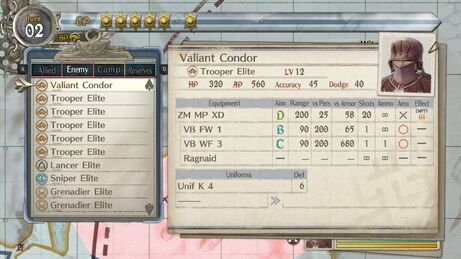 Has 20 total defense.
Location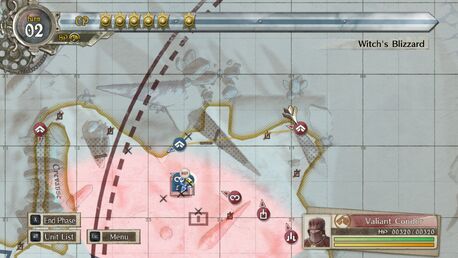 Reward
Defeating him rewards you with the ZM MP XD(e), an Imperial Machine Gun with slightly less range and vs Armor compared to the one he wields, but has the same accuracy rating and debuff effect, along with slightly higher vs Personnel.
Unlike other captured Imperial Machine Guns, it has a longer range compared to the others, similar to a Reising.
| Equipment | Aim | Range | vs Per | vs Armor | Shots | Ammo | Area | Effect |
| --- | --- | --- | --- | --- | --- | --- | --- | --- |
| ZM MP XD(e) | D | 180 | 28 | 45 | 20 | ∞ | X | No Ammo |
Trivia
The ZM MP XD(e) uses the same model as the ZM MP 3.
Community content is available under
CC-BY-SA
unless otherwise noted.