Unsinkable Énder (不沈エンダラー, Fuchin endarā?) is a Lancer Paragon Ace found in Valkyria Chronicles 4. He is hidden away in one corner of the map in Challenge Skirmish 1: A True Battlefield.
Gameplay
Énder is located in the bottom-left of the map as viewed in Command Mode, behind a couple of destroyable wooden barricades with a Sniper directly behind him. He starts out facing towards the top of the map.
Dealing with Énder is mostly a matter of getting to him, which given the map gimmick of sextuple damage to both sides is somewhat easier said than done. The Sniper off to his left on the map, who starts out in cover behind sandbags and generally refuses to move, is far more of a threat than the beefed-up Lancer with a Mortar-Lance he is guarding, and is best dealt with using the Glory's mortar if possible.
Since Énder is a Lancer, he will not turn to follow infantry moving near him, so it is very easy to get behind him: not that this really matters, given he has a fairly pathetic dodge stat and cannot counter-attack. His Blast Suit means trying to attack him from afar with a Mortar will essentially do nothing, and he is tough enough to require multiple uses of the Ship Order "Bombardment" to take out (since Bombardment is one of the few things not to do additional damage in this mission).
Stats and equipment
Has 40 total defense.
Location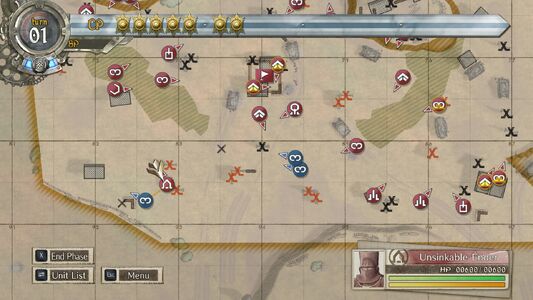 Reward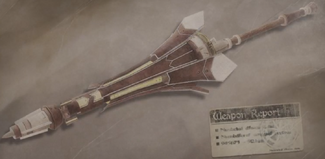 Defeating him rewards the player with a VB PL 3B(e), the top-level Imperial Anti-infantry mortar-lance. As with the others, it has a status effect: the icon is AP down, but the effect is called AP Use Up, and what it actually does is increase the rate at which Action Points drain while a unit is moving. This is a little strange since Énder uses a regular VB MT 3 mortar-lance.
Given there is no Federation equivalent of the Ace drop status effect mortar-lances, it is difficult to directly compare, but it is shorter-ranged than the Lancaar-SH, while having far more power than any Lancaar-SH variant: indeed, it is significantly more powerful than a shot from the top-level Hartman MS13 anti-personnel Mortar.
| Equipment | Aim | Range | vs Pers | vs Armor | Shots | Ammo | Area | Effect |
| --- | --- | --- | --- | --- | --- | --- | --- | --- |
| VB PL 3B(e) | B | 150 | 730 | 400 | 1 | 3 | O | |
Trivia
The model for the VB PL 3B(e) is the same as that used for the VB PL 2B(e).
Community content is available under
CC-BY-SA
unless otherwise noted.