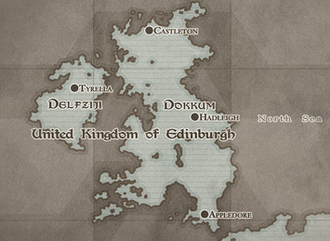 The United Kingdom of Edinburgh is a nation in Europa, consisting primarily of two large islands about 40 kilometers north west of continental Europa. It is a member of the Atlantic Federation.
Information
Edinburgh was established over a thousand years ago. It was one of the earliest forerunners of the citizen's revolution and industrialization. Prior to the rise of the Empire and the United States, Edinburgh was the leading nation in the world, and even now retains much influence within the Federation.
The United Kingdom of Edinburgh is a constitutional monarchy with a democratic government. The monarch "presides without ruling", and is more or less a ceremonial existence.
Landmarks
Dokkum - the larger island that forms the eastern territory of Edinburgh, equivalent to England, Scotland and Wales.

Castleton - a city located in northern Dokkum
Hadleigh - a city located in central Dokkum
Appledore - a city located in southern Dokkum. Its location right by the channel between Edinburgh and the continent makes it the equivalent of the English city of Dover.
Koln - located in northern Dokkum
Canbral - located in southern Dokkum

Delfziji - the smaller island that forms the western territory of Edinburgh, equivalent to Ireland.

Tyrella - a city in Delfziji
Verviers - a city in Delfziji
Military
The Edinburgh military has a very well-established regimen, and is often considered the best lead military within Federation forces, with a world-class navy. The Edinburgh military are often assigned to the hottest war zones and front lines. Edinburgh has attracted many foreigners seeking the fieriest battle grounds, and has formed quite a few combat units that are primarily composed of foreigners.
See also
Trivia
The landmass is the equivalent of the United Kingdom and Ireland.
Edinburgh in real life is the capital city of Scotland.
In the map for the original Valkyria Chronicles, United Kingdom of Edinburgh was not labeled on the map, only the two main islands Dokkum and Delfzijl.
Dokkum and Delfzijl are named after two cities in the Netherlands- Dokkum and Delftzijl.
Canbral probably takes its name from Cambrai in France, the site of one of the first large combined-arms operations involving large numbers of tanks in the First World War.
Castleton is a village in Derbyshire.
Appledore is a village in Devon.
Koln (Köln, more normally anglicized as "Cologne") is the real-life name of the fourth-largest city in Germany.
Valkyria Chronicles 4
Valkyria Chronicles 4 Mission List
Chapter
00 | 01 | 02 | i1 | 03a | 03b | 04a | 04b | 04c | 05 | 06 | 07a | 07b | i2 | 08a | 08b | i3 | 09 | 10 | 11 | i4 | 12 | 13 | i5 | 14 | 15a | 15b | 16 | 17a | 17b | 18a | 18b | E
Squad Stories
Like Old Times (Curtis, Laurent, Eileen) | A Prayer for the Broken (Godwin, Nico, Rosetta) | The Price of Skill (Neige, Aladdin, Leonhardt) | Mischief Makers (Emmy, Viola, Simon) | Reluctant Solitude (Louffe, Stahlschrott) | Honor, Pride, and Regret (Rebecca, Fleuret, Mabel) | Worlds Apart (Zaiga, Vancey, Gertrude) | All the Single Ladies (Millenia, Brittany, Rita) | To Live Unbound (Scott, Norid, Azusa) | Treading New Ground (Aulard, Miles, Dan) | Legacies Left (Keigel, Ryan, Ronald) | Girl in the Iron Mask (Ferrier, Jean, Stanley) | Love and Logic (Aoife, Jascha, Hanna) | Unfortunate Souls (Jimmy, Lily, Odin) | Gambler's Ruin (Jester, Teresa, Connor) | Soul of the Navy (Brian, André, Sergio) | A Chivalrous Heart (Minerva, Christel)
Skirmish
Normal: 01 | 02 | 03 | 04 | 05 | 06 | 07 | 08 | 09 | 10
Hard: 01 | 02 | 03 | 04 | 05 | 06 | 07 | 08 | 09
Challenge: 01 | 02 | 03
Expert: 01 | 02 | 03 | 04 | 05 | 06
DLC
01 | 02 | 03 | 04
Community content is available under
CC-BY-SA
unless otherwise noted.