Ty the Immortal

Chiara Rocino refuses to allow Valkyria Chronicles 4 to contain a third character who keeps inexplicably coming back to life.
Information
Affiliation
East Europan Imperial Alliance
Weapon Drop
ZM MP 6(e)
Voice Acting
Japanese
Not voiced
English
Not voiced
Ty the Immmortal (不死身のタイラー, Fujimi no tairā?) is a Shocktrooper Paragon Ace found in Valkyria Chronicles 4. Ty the Immortal was something of a running joke in the first game, an "unkillable" Shocktrooper who appeared a total of four times, though this is his only appearance in this game. He patrols a frozen tunnel in Hard Skirmish 3: Beneath the Frost.
Gameplay
Ty is located in the tunnels on the far-left side of the Command Mode map, past the central crevasse and the Imperial camp on the other side. While he has picked an excellent hiding place, he actually gives away his position each turn by randomly wandering back and forth, showing the usual "shuffle shuffle" of a hidden unit. The lower unit is him, while the upper one doing the same thing is a Scout. He starts out facing the top of the map, and usually comes to rest staring at a wall rather than looking along the length of the tunnel.
Due to this strange behaviour, a Scout who approaches carefully enough can actually walk around behind him without either getting in his 90-degree cone of vision, or stepping so close he is automatically alerted.
Killing Ty is actually mandatory, since the mission objective is to kill all enemies.
Stats and equipment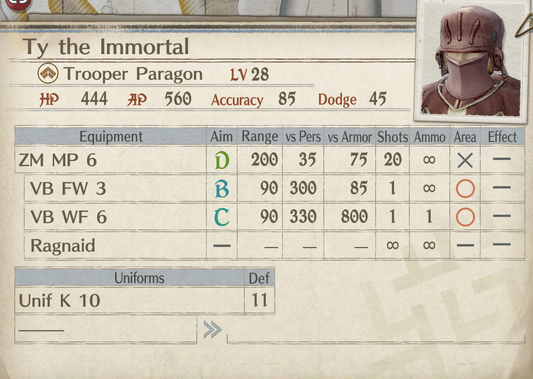 Has 30 total defense.
Location
Reward
Defeating him rewards the player with a ZM MP 6(e), a high-level Imperial Machine Gun. It is just as accurate as the ZM MP 6 he uses himself, but with boosted vs Pers power and shorter range.
Like almost all captured Imperial Machine Guns, it trades range and accuracy for greater vs Pers hitting power.
| Equipment | Aim | Range | vs Pers | vs Armor | Shots | Ammo | Area | Effect |
| --- | --- | --- | --- | --- | --- | --- | --- | --- |
| ZM MP 6(e) | D | 150 | 50 | 60 | 20 | ∞ | X | - |
Trivia
His health total of 444 relates to the fact that in Japanese, along with other languages related to Chinese, the word "four" sometimes shares a pronunciation with the word for "death" (both are pronounced shi). Japanese hospitals often do not have a fourth floor for this reason.
The weapon model for the ZM MP 6(e) is the same as the ZM MP 5(e), and is also used for the ZM MP 7(e) and ZM MP 8(e).
Community content is available under
CC-BY-SA
unless otherwise noted.