Tucker the Heavy

The Hafen sights up Tucker the Heavy.
Information
Affiliation
East Europan Imperial Alliance
Weapon Drop
VB GW 5(e)
Voice Acting
Japanese
Not voiced
English
Not voiced
Tucker the Heavy (重火力のタッカ, Jū karyoku no takka?) is a Grenadier Paragon Ace found in Valkyria Chronicles 4. He guards one of the Imperial bases in Hard Skirmish 5: Through the Fire.
Gameplay
Tucker is positioned to the right of the top-left Imperial camp as viewed in Command Mode, along with a force including another Grenadier, Shocktroopers, a Lancer, an Engineer, a Sniper and a tank.
He is not that hard to target from behind by driving the Cactus through the wall of flames between the two Imperial camps at the top of the map and deploying soldiers, or he can be easily taken out using the Ship Order "Bombardment," which has the advantage that it will also soften up everything else in the vicinity of the camp.
Stats and equipment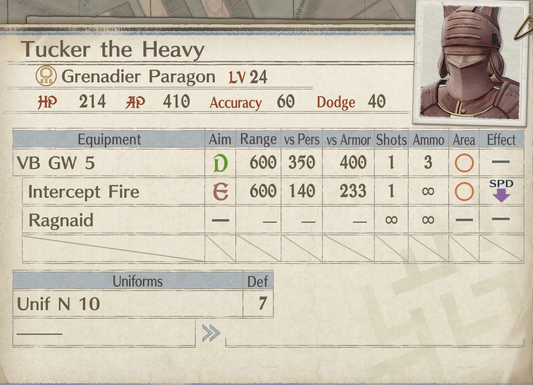 Has 20 total defense.
Location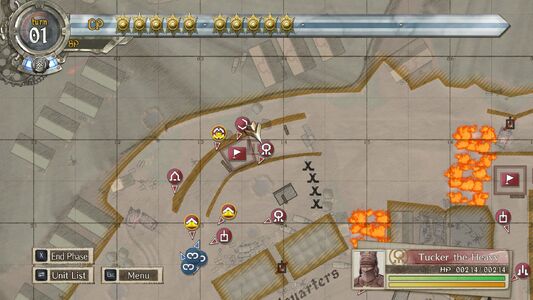 Reward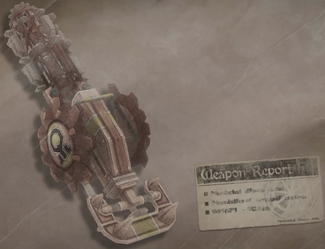 Defeating him rewards the player with a VB GW 5(e), a high-level Imperial antipersonnel mortar.
Like most other captured Imperial Mortars, its Interception fire is more accurate than its aimed fire, and its interception fire also has slightly superior vsArmor.
It is a powerful but inaccurate weapon: its antipersonnel damage exceeds every Sanders mortar and is only bested by the final two Hartman models. This is, however, at the cost of slightly inferior range.
| Equipment | Aim | Range | vs Pers | vs Armor | Shots | Ammo | Area | Effect |
| --- | --- | --- | --- | --- | --- | --- | --- | --- |
| VB GW 5(e) | E | 500 | 670 | 230 | 1 | 3 | O | - |
| Intercept Fire | D | 500 | 240 | 240 | 1 | ∞ | O | |
Trivia
The model for the VB GW 5(e) is also used for the VB GW 6(e), VB GW 7B(e) and VB GW 8(e).
Community content is available under
CC-BY-SA
unless otherwise noted.