Toma the Magus (魔獣トモミール, Majū tomomīru?) is a Lancer Elite Ace found in Valkyria Chronicles 4. He is hidden away in a side-area in the battle mission Recovery of the Comet.
Gameplay
Toma is hiding in a curved path behind a rock to the right of the Imperial base flag in Command Mode, facing towards the top of the map.
Thanks to the presence of Crymaria Levin and the Vulcan, as well as a fixed machine gun, trying to reach him from the left side is more trouble than it is really worth, but there is a narrow path above and to the right of Squad E's base camp which provides an alternative: it is marked with a "no tank entry" symbol on the Command Mode map.
This path has a Shocktrooper waiting, but otherwise offers good cover and will lead units following it directly behind Toma to take him out, as well as offering an opportunity for a very fast capture of the Imperial base flag.
Stats and equipment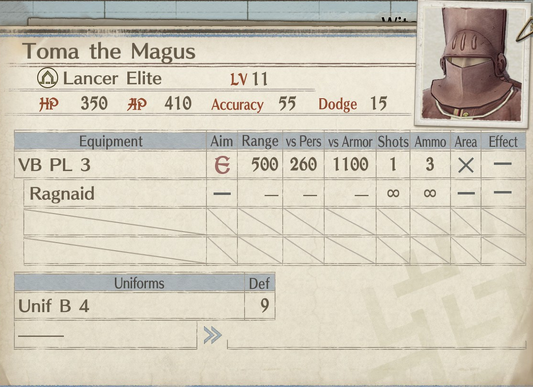 Has 25 total defense.
Location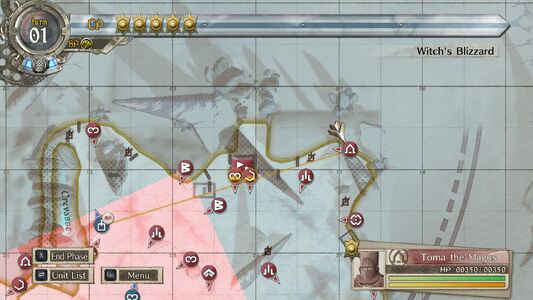 Reward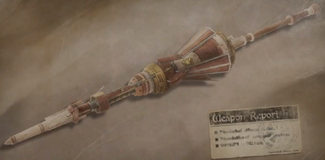 Defeating him rewards the player with a VB PL 3(e), an Imperial Lance shorter-ranged, but more accurate and powerful than the basic VB PL 3 he uses himself.
It is far more powerful than anything the player has access to at this stage in the campaign, though it must be used at very close range to deal with its low accuracy.
| Equipment | Aim | Range | vs Pers | vs Armor | Shots | Ammo | Area | Effect |
| --- | --- | --- | --- | --- | --- | --- | --- | --- |
| VB PL 3(e) | D | 430 | 145 | 1400 | 1 | 3 | X | - |
Community content is available under
CC-BY-SA
unless otherwise noted.