The Kill Sergeant

Raz sights up The Kill Sergeant.
Information
Affiliation
East Europan Imperial Alliance
Weapon Drop
ZM MP 4(e)
Voice Acting
Japanese
Not voiced
English
Not voiced
The Kill Sergeant (シバ鬼教官, Shiba oni kyōkan?) is a Shocktrooper Elite Ace found in Valkyria Chronicles 4. He turns up as part of the trap sprung by Klaus Walz during the battle mission Clash on the Crystal Sea.
Gameplay
The Kill Sergeant appears among the phalanx of Ausbruch troops that accompany the Vulcan on the right side of the map after both Imperial camps are captured.
He can be very difficult to get to if the player is not prepared, since he faces the most obvious approach around the side of the Vulcan, and he is accompanied by two more Shocktroopers and a Scout when he appears.
The best way to deal with him is to anticipate his arrival: moving a Shocktrooper into the inactive base before capturing both camps will allow them to shoot The Kill Sergeant from behind as soon as he appears. It can be a good idea to use the cover of the sandbags and use Defense Boost on this trooper, as he will have to brave the Interception fire from two other Shocktroopers while he takes aim.
Stats and equipment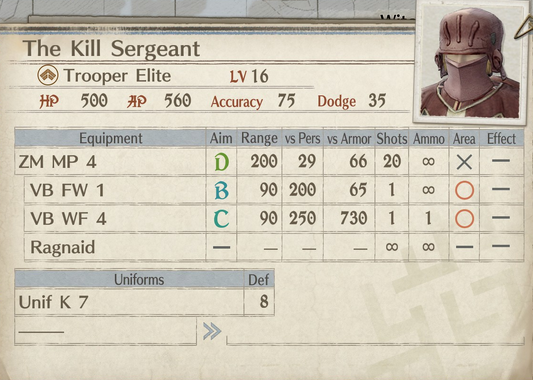 Has 25 total defense.
Location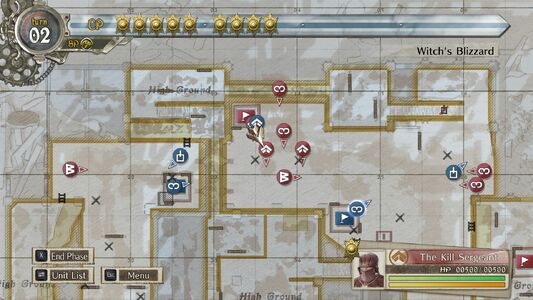 Reward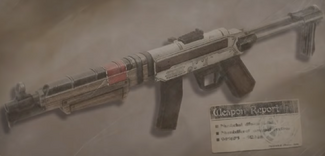 Defeating him rewards the player with a ZM MP 4(e), a mid-level Imperial Machine Gun. It is just as accurate as the ZM MP 4 he uses himself, but with boosted vs Pers power and shorter range.
Like almost all captured Imperial Machine Guns, it trades range and accuracy for greater vs Pers hitting power.
The Shocktrooper Ace Nox the Listener in Normal Skirmish 8 shares The Kill Sergeant's weapon drop, despite that he is technically standing in for Ixa the Medi-Killer on that map.
| Equipment | Aim | Range | vs Pers | vs Armor | Shots | Ammo | Area | Effect |
| --- | --- | --- | --- | --- | --- | --- | --- | --- |
| ZM MP 4(e) | D | 120 | 41 | 55 | 20 | ∞ | X | - |
Community content is available under
CC-BY-SA
unless otherwise noted.