The Blood Knight

Selvaria comes across The Blood Knight
Information
Affiliation
East Europan Imperial Alliance
Weapon Drop
ZM MP 8(e)
Voice Acting
Japanese
None
English
None
The Blood Knight is a Trooper Paragon ace in Valkyria Chronicles 4. He is found in the Expert Skirmish DLC mission Escape from a Dire Situation.
Gameplay
The Blood Knight is positioned behind a wrecked tank in the SW corner of the map in the opposite direction the player needs to go to fulfill their objective. He is guarded by a small number of units, including a sniper on the watchtower along with a scout and trooper.
He carries a modified version of the ZM MP 8 used by the other troopers encountered in this level, boasting improved accuracy along with slightly higher vs Pers and vs Armor damage.
Due to his bulkiness, most weapons will fail to one hit kill or one round him unless a +vs Pers potential goes off, though certain weapons like SMGs, high end Brown rifles, or LF-ASRs can reliably take him down with headshots. He has a relatively low dodge chance, though the player may need to send a unit to turn him around while another moves in for the surprise attack to guarantee he doesn't do that.
Stats and equipment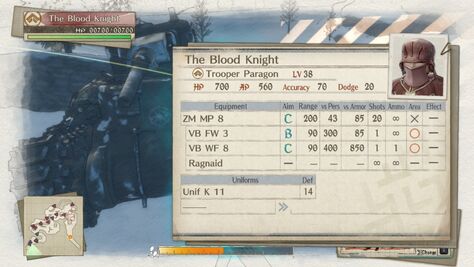 Has 40 total defense.
Location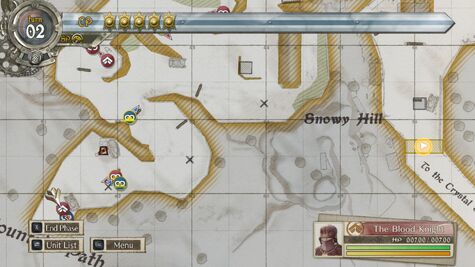 Reward
Defeating The Blood Knight gives the player the ZM MP 8(e), a long range SMG with better range, accuracy, and vs Per hitting power but lower vs Armor and shot count compared to the weapon he wields. This is effectively equivalent to a high end Brown series rifle able to be equipped for shocktroopers, giving them a decent ranged option.
| Equipment | Aim | Range | vs Per | vs Armor | Shots | Ammo | Area | Effect |
| --- | --- | --- | --- | --- | --- | --- | --- | --- |
| ZM MP 8(e) | C+ | 350 | 48 | 66 | 7 | ∞ | X | - |
Trivia
The model for the ZM MP 8(e) is also shared by the ZM MP 5, 6, and 7.
Community content is available under
CC-BY-SA
unless otherwise noted.