Tavyse the Beast (凶獣タバイスラー, Kyō-jū tabaisurā?) is a Shocktrooper Paragon Ace found in Valkyria Chronicles 4, and the first Ace in the game of Paragon rank.. He is a recurring Ace, though has apparently changed occupation, given the first game's Tavyse the Beast was a Sniper. He guards one of the two approaches to the Imperial base flag in Hard Skirmish 1: Into the Woods.
Gameplay
Tavyse is lurking in the circular area containing the enemy base camp at the bottom, on the left-hand side as viewed in Command Mode. He is facing the top of the map, ready to ambush anyone who thought there could not be anything worse his way than the land mines and regular Shocktrooper on the other route.
Despite being a full six levels higher, Tavyse really is not much of a step up from Gambit Zanatos, having the same weapon and only managing 30 extra HP. Still, a Shocktrooper with over 400 HP and an accuracy of 80 is nothing to be trifled with.
Since even the highest level Bombardment Ship Order will not kill him, the best way to deal with him is to assault the enemy base flag and circle around behind him after dealing with the Shocktrooper and Scout guarding it.
Since he wields a duplicate weapon, killing him is not actually necessary to getting the "Excellence in Armament" Medal if Gambit Zanatos has already been defeated.
Stats and equipment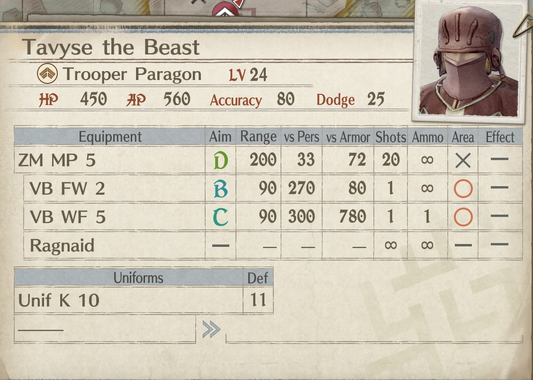 Has 35 total defense.
Location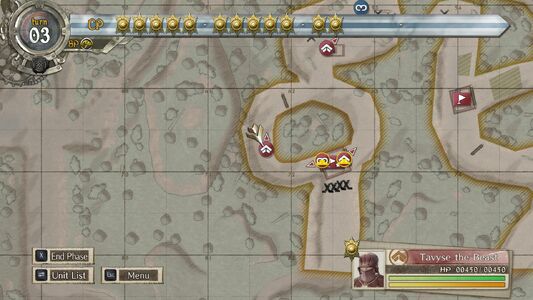 Reward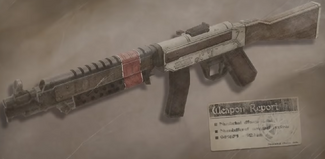 Defeating him rewards the player with a ZM MP 5(e), a high-level Imperial Machine Gun. It is just as accurate as the ZM MP 5 he uses himself, but with boosted vs Pers power and shorter range.
Like almost all captured Imperial Machine Guns, it trades range and accuracy for greater vs Pers hitting power.
The Shocktrooper Elite Ace Gambit Zanatos in Chapter 16: Forseti's Judgment shares Tavyse the Beast's weapon drop, meaning the player can have two of these weapons in stock.
| Equipment | Aim | Range | vs Pers | vs Armor | Shots | Ammo | Area | Effect |
| --- | --- | --- | --- | --- | --- | --- | --- | --- |
| ZM MP 5(e) | D | 150 | 45 | 58 | 20 | ∞ | X | - |
Trivia
The weapon model for the ZM MP 5(e) is also used for the ZM MP 6(e), ZM MP 7(e) and ZM MP 8(e).
He is the last Skirmish Ace to wield a duplicate weapon.
Community content is available under
CC-BY-SA
unless otherwise noted.