Tankbuster Nämy

Unfortunately for Nämy, Raz is not a tank.
Information
Affiliation
East Europan Imperial Alliance
Weapon Drop
VB PL 1(e)
Voice Acting
Japanese
Not voiced
English
Not voiced
Tankbuster Nämy (戦車殺しのナミ, Sensha-goroshi no Nami?) is a Lancer Ace found in Valkyria Chronicles 4. He is found hiding at the side of the main road in the battle mission Breaking the Line 2.
Gameplay
Nämy is found hiding in long grass at the top of the second bend in the road, just past the broken ladder and base flag. He will wait here in the hope of getting a radiator shot on the Cactus or Hafen after they drive past him. Complicating matters further, there is an Assault Tank up the road that parks right next to him on Imperial Turn 1.
He is wearing a Lancer Blast Suit, and so grenades and mortars will do almost nothing to him other than making him stand up, and the player is extremely unlikely to have access to a flamethrower this early on. As a result, by far the easiest way to deal with him is to have the Hafen or Cactus run him over: this does no damage, but forces him to stand up. They can then shoot him in the head from behind with their machine gun.
His accuracy E weapon means that anything but point-blank shots are unlikely to be effective, but at this early stage he can potentially knock off almost half the Cactus' health in one shot, even if he does not have an angle on the radiator.
Stats and equipment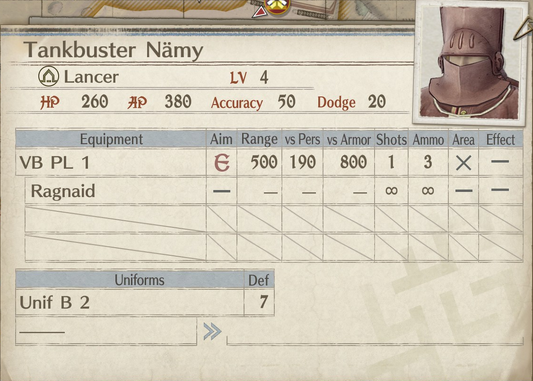 Has 15 total defense.
Location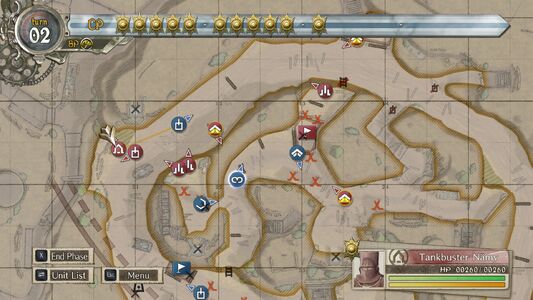 Reward
Defeating him rewards the player with a VB PL 1(e), an Imperial Lance shorter-ranged, but more accurate and powerful than the basic VB PL 1 he uses himself.
It is far more powerful than anything the player has access to at this stage in the campaign, though it must be used at very close range to deal with both its own low accuracy and the low accuracy of Lancers themselves at this stage.
| Equipment | Aim | Range | vs Pers | vs Armor | Shots | Ammo | Area | Effect |
| --- | --- | --- | --- | --- | --- | --- | --- | --- |
| VB PL 1(e) | D | 400 | 120 | 980 | 1 | 3 | X | - |
Community content is available under
CC-BY-SA
unless otherwise noted.