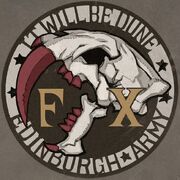 Edinburgh Army 101st Division, 1st Battle Brigade, 32nd Armored Ranger Corps, 2nd Regiment, Platoon F; also known as "Fox Platoon", is a unit in the Federate Army.
Lead by Minerva Victor, Squad F is known as the best disciplined platoon in the Ranger Corps.
History
Originally a platoon of volunteer recruits undergoing training at the same time as Squad E. During this time, Minerva developed a fierce rivalry with Squad E's commander, Claude Wallace, who always seemed to be able to outdo her effortlessly. This rivalry had a negative effect on squad morale and culminated in a mock battle where Victor realised she had to act in the best interests of her squad, ultimately defeating the much larger unit from Squad E. This action resulted in Victor being promoted to Lieutenant ahead of Wallace. After the entire platoon passed the Ranger training, they were assigned to the 2nd Regiment of the 32nd Armored Ranger Corps.
Molded in the image of its charismatic commander, Squad F followed a strict code of chivalry, seeing themselves as akin to a group of ancient knights. Their loyalty to Lieutenant Victor was absolute, with each saying she had saved their life and would gladly give it for her.
As part of the Ranger Corps, they were part of the vanguard in Operation Northern Cross, and participated in the assault on the Siegval Line. After crossing the Achtzehn Mountains to the western shorelines, they were ambushed by Ausbruch and almost completely annihilated. The remaining fighting-capable members, Minerva Victor and Ronald Albee, were incorporated into Squad E as part of the defense force of the Snow Cruiser Centurion.
Notable Members
Trivia
The only other members of Squad F shown in-game are generic male "redshirt" soldiers. During the Squad Story mission A Chivalrous Heart for Minerva and Christel, the Squad F redshirts do not have names and are referred to by their unit class, though they do have unique speech. In his Squad Story, Legacies Left, Ronald Albee does imply that there were unseen female members of Squad F, however, referring to them as "brave sons and daughters."
Valkyria Chronicles 4
Valkyria Chronicles 4 Mission List
Chapter
00 | 01 | 02 | i1 | 03a | 03b | 04a | 04b | 04c | 05 | 06 | 07a | 07b | i2 | 08a | 08b | i3 | 09 | 10 | 11 | i4 | 12 | 13 | i5 | 14 | 15a | 15b | 16 | 17a | 17b | 18a | 18b | E
Squad Stories
Like Old Times (Curtis, Laurent, Eileen) | A Prayer for the Broken (Godwin, Nico, Rosetta) | The Price of Skill (Neige, Aladdin, Leonhardt) | Mischief Makers (Emmy, Viola, Simon) | Reluctant Solitude (Louffe, Stahlschrott) | Honor, Pride, and Regret (Rebecca, Fleuret, Mabel) | Worlds Apart (Zaiga, Vancey, Gertrude) | All the Single Ladies (Millenia, Brittany, Rita) | To Live Unbound (Scott, Norid, Azusa) | Treading New Ground (Aulard, Miles, Dan) | Legacies Left (Keigel, Ryan, Ronald) | Girl in the Iron Mask (Ferrier, Jean, Stanley) | Love and Logic (Aoife, Jascha, Hanna) | Unfortunate Souls (Jimmy, Lily, Odin) | Gambler's Ruin (Jester, Teresa, Connor) | Soul of the Navy (Brian, André, Sergio) | A Chivalrous Heart (Minerva, Christel)
Skirmish
Normal: 01 | 02 | 03 | 04 | 05 | 06 | 07 | 08 | 09 | 10
Hard: 01 | 02 | 03 | 04 | 05 | 06 | 07 | 08 | 09
Challenge: 01 | 02 | 03
Expert: 01 | 02 | 03 | 04 | 05 | 06
DLC
01 | 02 | 03 | 04 | 05
Community content is available under
CC-BY-SA
unless otherwise noted.