Segular the Wall is an Imperial ace encountered in the original Valkyria Chronicles game, he drops the ZM Kar 1(g).
He is the first Imperial ace to appear in a mission, and does so very early on in the game during Chapter 02: Escape From Bruhl. He is located in the back of an alley behind the wall which the Edelweiss must destroy to reach Alicia's position.
Unlike many aces this is his first and only appearance in the series.
Stats and Equipment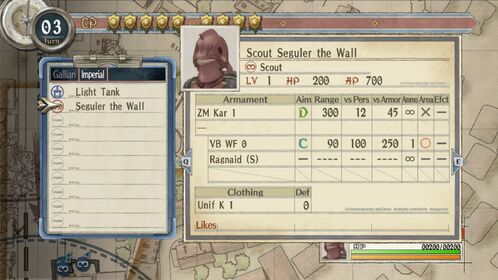 Defense - 5
Accuracy - 80
Evade - 30
Location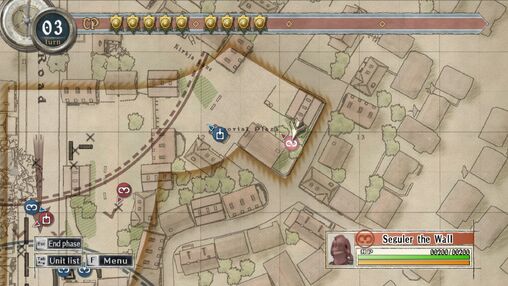 Notes/Trivia
Segular the Wall is the first ace in the game, however he is very easy to miss!
While not as high as many aces in the game, Segular the Wall's enhanced evasion can cause a player a little trouble as he will often evade your attacks. Unfortunately due to his position on the map, the lack of useful potentials and smoke shells at this stage of the game the only way to defeat him is to attack from the front and hope for the best.
If you get Alicia to throw a grenade at him. The grenade will kill him instantly, therefore saving you the trouble of shooting him.
Community content is available under
CC-BY-SA
unless otherwise noted.