Secret Agent Saki

Secret Agent Saki has the extremely bad idea of shooting at Scott Aldiss.
Information
Affiliation
East Europan Imperial Alliance
Weapon Drop
ZM Kar 4(e)
Voice Acting
Japanese
Not voiced
English
Not voiced
Secret Agent Saki (サキ諜報員, Saki chōhō-in?) is a Scout Elite Ace found in Valkyria Chronicles 4. He appears in the Squad Story To Live Unbound, in the battle mission "A Great Escape."
Gameplay
Secret Agent Saki is concealed behind a metal barricade at the lower-left of the map as seen in Command Mode, and only comes out of hiding if one of the three soldiers is nearby.
There is a sandbag wall near to his area which soldiers can crouch behind to protect them from his gunfire.
By far the easiest way of dealing with him is to leave Scott Aldiss nearby with the highest-damage Machine Gun the player has, so Saki will try to shoot at him during the Imperial turn and kill himself with Scott's Interception fire or counter-fire. Having Azusa Tsukikage fire a rifle grenade at him is also a viable tactic.
Killing Saki is actually mandatory, since the mission objective is to kill all enemies.
Stats and equipment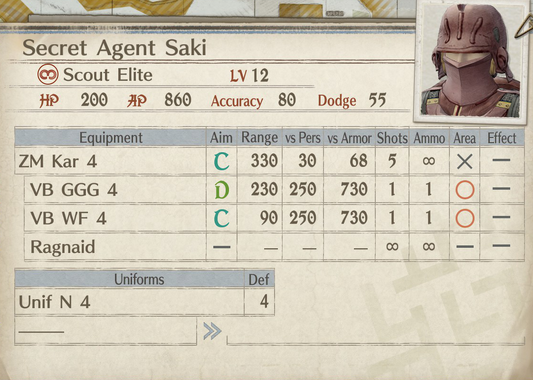 Has 15 total defense.
Location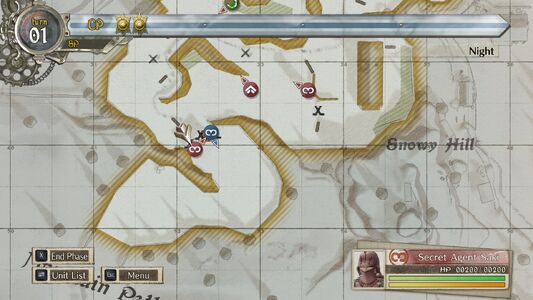 Reward
Defeating him rewards the player with a ZM Kar 4(e), a high-level Imperial Rifle shorter-ranged and less accurate but vastly more powerful than the ZM Kar 4 he uses himself.
Like all captured Imperial rifles, it trades range and accuracy for greater vs Pers hitting power.
The Scout Ace Keel the Chiliarch in Normal Skirmish 9 shares Saki's weapon drop, despite that he is standing in for Yorde the Poet in this map.
| Equipment | Aim | Range | vs Pers | vs Armor | Shots | Ammo | Area | Effect |
| --- | --- | --- | --- | --- | --- | --- | --- | --- |
| ZM Kar 4(e) | D | 200 | 52 | 60 | 5 | ∞ | X | - |
Trivia
Saki is presumably an agent from the same Far-Eastern country as Azusa herself, working undercover as an Imperial soldier.
Community content is available under
CC-BY-SA
unless otherwise noted.