Roaring Chanitz (吶喊チャニータ, Tokkan chanīta?) is a Shocktrooper Ace found in Valkyria Chronicles 4.. He appears in the Squad Story "A Prayer for the Broken," where he is part of the force in Fort Krest's outer courtyard in the battle mission Three Scouts.
Gameplay
Roaring Chanitz guards an Imperial camp below and to the right of the starting area as seen on the Command Mode map. He starts out crouching behind sandbags and is facing the most obvious approach, and this is further complicated by there being a Heavy Imperial Tank parked in the most obvious flanking path. Even better, there is a Grenadier lurking around behind him protected by a metal barricade, and the first thing that must be done is shooting a handily placed Ragna-Crate that will kill the Grenadier but not harm Chanitz.
The best way to get behind him is to shoot the Ragna-Crate next to the Heavy Tank and then go around the pile of rubble: luckily, Chanitz's weapon is incredibly inaccurate, and so his Interception fire is not very dangerous unless one of the Scouts gets very close to him. It is best to use Rosetta Valeriano for this, since she has the highest HP of the three. If doing the mission late she also has the Battle Potential "Resist Crossfire" to make things easier still, though at that stage she can fire a rifle grenade at him from outside his weapon's range.
Once behind him it should be a simple matter of throwing a grenade at him to get the kill: if he survives, instantly end the unit's Movement Phase and control one of the other Scouts to finish him off.
A much simpler way of dealing with him is to realize this mission's base flag is fully functional and call in Riley Miller with an antipersonnel Mortar as reinforcement. The mission is not exactly balanced around the player realizing they can do this.
Stats and equipment
Has 15 total defense.
Location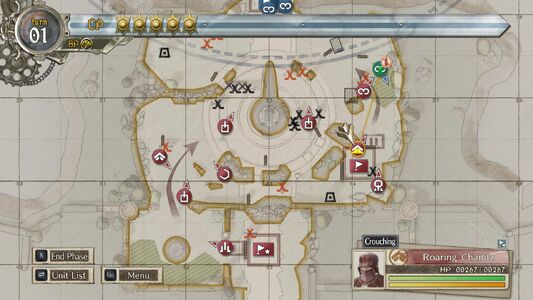 Reward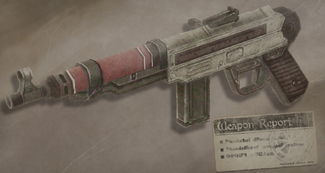 Defeating him rewards the player with a ZM MP 2(e), a low-level Imperial Machine Gun with the range halved compared to his own ZM MP 2, but almost double the vs Pers damage and slightly improved accuracy.
Like almost all captured Imperial Machine Guns, it trades range and accuracy for greater vs Pers hitting power.
The Shocktrooper Ace Chienö the Raider in Normal Skirmish 5 shares Chanitz's weapon drop, despite that he is technically standing in for Mash the Hunter on that map.
| Equipment | Aim | Range | vs Pers | vs Armor | Shots | Ammo | Area | Effect |
| --- | --- | --- | --- | --- | --- | --- | --- | --- |
| ZM MP 2(e) | D | 100 | 36 | 50 | 20 | ∞ | X | - |
Community content is available under
CC-BY-SA
unless otherwise noted.