Retrieving the Goods
Grade

★

Area Effect
None
Number of units
6
CP
Start ?, ? per turn
Turns for S rank
4
Objectives
Retrieve 4 boxes
Failure conditions
Allied base camp captured
20 turns pass
Morale 0
All infantry defeated
Special conditions
Gatling Turret x 2
Enemy vehicles
Light APC A x 1
Enemy officers
2 total:
Shocktrooper Leader
Fencer Leader
Enemy ace(s)
Matz Slow-Kill
Ace Location
Area 2 [E5]
Retrieving the Goods is one of the key missions in Valkyria Chronicles 2 that you have to complete before taking the May story mission, Laevatein Semifinals. After completing this mission, it will become a free mission.
Strategy
In this mission, you have to find 4 boxes scattered around the map. To check if you have found all the boxes in one area, look at the the mini-map during Command Mode, if there is at least one box in the area, there should be a icon above the mini-map.
The positions of the boxes are as follow:
Rewards
Base Reward
Enemy Ace Reward
Credits
Materials
Special Units Bonus
Captured All Base Camps Bonus
Videos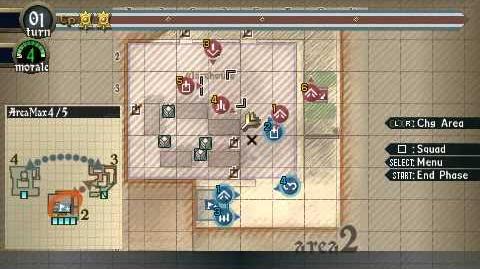 Notes/Trivia
Community content is available under
CC-BY-SA
unless otherwise noted.