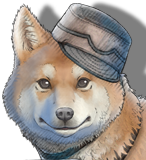 Ragnarok (ラグナロック, Ragunarokku?) a.k.a. "Rags" - Edinburgh Army 101st Division No. 1 Battle Brigade No. 32 Armored Ranger Battalion Squad E medical dog and mascot of the unit. He was originally a stray found by the squad. He became attached to Claude and company, and joined Squad E. He is a brave dog who will fearlessly run to the battlefield even during gunfires and bombings to aid injured soldiers. He cannot ignore the weak and will run to their aid against better judgment.[1]
Profile
Biography
Age 10. Squad E rescue dog. Male. Helps in rescuing wounded soldiers. He use to be a stray, but is extremely intelligent, and exceptionally brave. Fearlessly runs through gunfire and even explosions. Won't leave a hurt comrade behind. He's very prideful, and stubbornly refuses petting — mostly. It's common to see "Rags" running courageously through battle in order to save the wounded. The sight alone can boost any soldier's morale. These days, he stays close to Angie. Given how much smaller she is than Claude and the others, he's decided she clearly needs his protection. Formerly, a sled dog for a team exploring the northern lands. Once the expedition was over, the dogs were abandoned. Only Ragnarok survived.
Gameplay
Ragnarok is not actually playable in Valkyria Chronicles 4. However, he will sometimes make an appearance alongside Karen when a downed ally is being evacuated. When this happens, the soldier performing the evac will gain a morale boost for one turn.
References
Community content is available under
CC-BY-SA
unless otherwise noted.