Quil the Gunsmith (銃職人カイル, Jū shokunin kairu?) is a Scout Elite Ace found in Valkyria Chronicles 4. He appears in Normal Skirmish 10: Snowbound Island, and is more or less a copy of the Scout Elite Ace Yorde the Poet.
Gameplay
Quil is located past the Imperial base camp behind a set of frozen trees, just below the black "X" that indicates a blocked-off ladder in Command Mode. He has slightly more health than his counterpart and has slightly higher accuracy, though his dodge rating has been downgraded slightly compared to Yorde's.
Since he can see through the gaps in the frozen trees, simply circling around him will not work unless the player has the Hafen fire a smoke round at him first. The easiest way to take him down is to bring a pair of Scouts in the Cactus, having one circle around him to turn him around and then the other shoot him in the back. Bringing up a Grenadier will also work, though it is a little more convoluted and tricky to set up given all the firepower hanging around near the enemy base camp.
Alternatively he is easily taken out with the Ship Order "Bombardment," though below the Amp Cannon Mark V he will take multiple hits, and this requires moving the Hafen close enough to target him.
Since he wields a duplicate weapon, killing him is not actually necessary to getting the "Excellence in Armament" Medal if Yorde the Poet has already been defeated.
Stats and equipment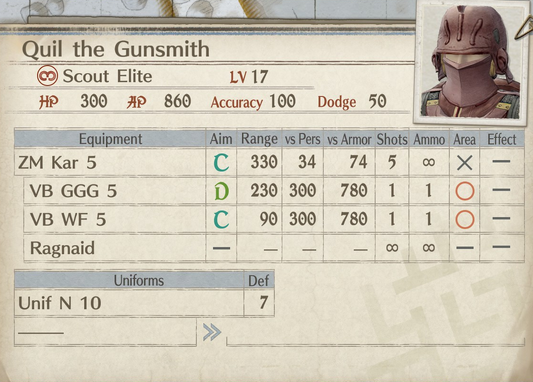 Has 20 total defense.
Location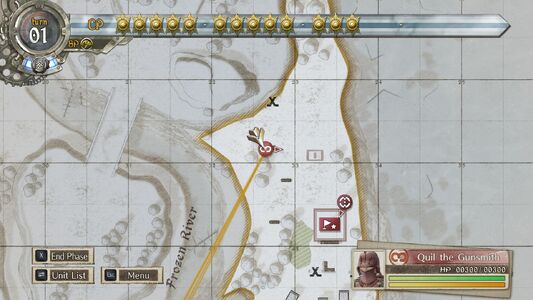 Reward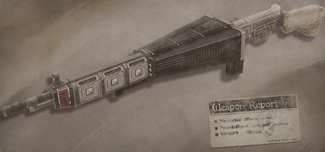 Defeating him rewards the player with a ZM Kar 5(e), a high-level Imperial Rifle shorter-ranged and less accurate but vastly more powerful than the ZM Kar 5 he uses himself.
Like all captured Imperial rifles, it trades range and accuracy for greater vs Pers hitting power.
The Scout Ace Yorde the Poet in Chapter 15: A Reason to Fight - Part 2 shares Quil's weapon drop, meaning the player can have two of these weapons in stock.
| Equipment | Aim | Range | vs Pers | vs Armor | Shots | Ammo | Area | Effect |
| --- | --- | --- | --- | --- | --- | --- | --- | --- |
| ZM Kar 5(e) | D | 220 | 59 | 65 | 5 | ∞ | X | - |
Trivia
The model for the ZM Kar 5(e) is also used for the ZM Kar 6(e), ZM Kar 7(e), ZM Kar 8(e) and ZM Kar X(e).
Community content is available under
CC-BY-SA
unless otherwise noted.