Oswald the Gold is an Imperial Scout ace who appears in Susie's Challenge: The Wildwood I -- Scout Trial, the first mission of the Challenges of the Edy Detachment downloadable content for the original Valkyria Chronicles videogame.
He is armed with the ZM Kar 8(g), which is your reward for defeating him. Defeating him is a requirement as the mission objective is to defeat all enemy units.
Oswald the Gold is considered by fans to be a promoted Oswald the Iron.
Stats and Equipment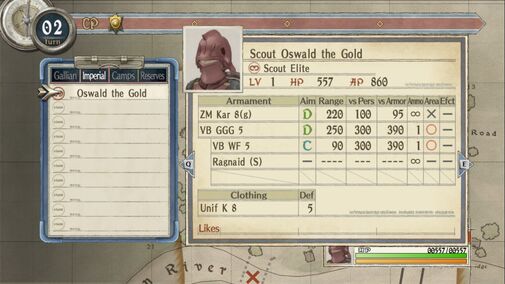 Location
Notes/Trivia
Like many enemy aces Oswald has very high evasion and must be attacked from behind or by a character with the undodgeable shot class potential in order for the player to have any chance of hitting him.
Despite his title, he actually has lower defense than both his story versions.
Community content is available under
CC-BY-SA
unless otherwise noted.