Nix the Marksman

Nix takes a shot at Selvaria
Information
Affiliation
East Europan Imperial Alliance
Weapon Drop
ZM SG 6(e)
Voice Acting
Japanese
None
English
None
Nix the Marksman is a Sniper Paragon ace in Valkyria Chronicles 4. He can be found in the sixth Hard Skirmish mission Across the Bridge.
Gameplay
Nix is positioned at the west end of the bridge, ready to deliver attacks and intercepting fire to Squad E as they attempt to cross it.
Interestingly enough, despite being an ace, he has slightly less HP, dodge, and defense compared to other Sniper Paragons in this map. The only thing he has over them is greater accuracy and a custom version of the ZM SG 6 that deals more damage than the regular version used by the other snipers.
Because his dodge chance is so low, a sniper or grenadier in the starting area can easily take him down before getting threatened by his interception fire.
Stats and equipment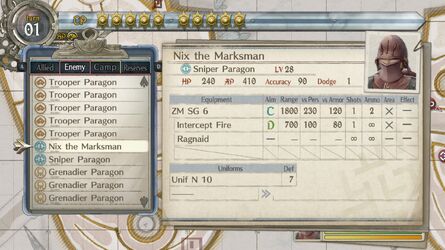 Has 8 total defense.
Location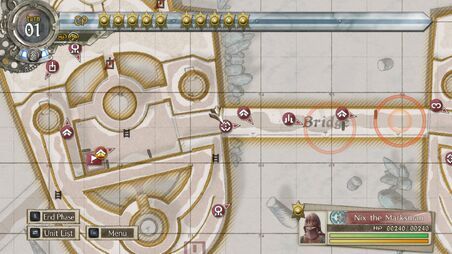 Reward
Defeating Nix rewards the player with the ZM SG 6(e), a sniper rifle with the same accuracy rating as his, but with less range and damage. Its interception fire stats has slightly better vsPer damage, along with slightly better accuracy.
It also boasts a high zoom magnification that's on par with the late models of the GSR rifle series.
Note: Intercept fire is only available for Sniper Elites (level 11 and above), this stat will not appear before then.
| Equipment | Aim | Range | vs Pers | vs Armor | Shots | Ammo | Area | Effect |
| --- | --- | --- | --- | --- | --- | --- | --- | --- |
| ZM SG 6(e) | C | 780 | 200 | 85 | 1 | 3 | X | - |
| Intercept Fire | D+ | 700 | 120 | 60 | 1 | ∞ | X | - |
Trivia
The model for the ZM SG 6(e) uses the same one as the ZM SG 5, 7, and 8.
Community content is available under
CC-BY-SA
unless otherwise noted.