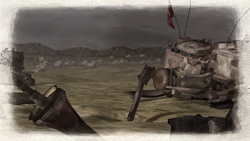 Few areas within Gallia have been the grounds for more battles through history than the sweeping Naggiar Plains, found in the nation's northeastern region.
Information
As the object of several border disputes between the Empire and Gallia, this area saw warfare so frequent that today only a few scraggly patches of grass remain to cover the divot-ridden red clay soil.
Trenches dug during EW1 also remain, crisscrossing the region in a complex network of deep scars.
Community content is available under
CC-BY-SA
unless otherwise noted.