Mitz the Agent is an Imperial Sniper ace who appears in the Tank Trial, the sixth and final trial in the Challenges of the Edy Detachment DLC for Valkyria Chronicles.
Mitz occupies the central portion of the map protected by barricades and tank traps. He will take potshots at Squad 7 when the opportunity presents itself. He also has very high evasion and uses a ZM SG 5, but drops the ATR-X3(g), which is your reward for defeating him.
Stats and Equipment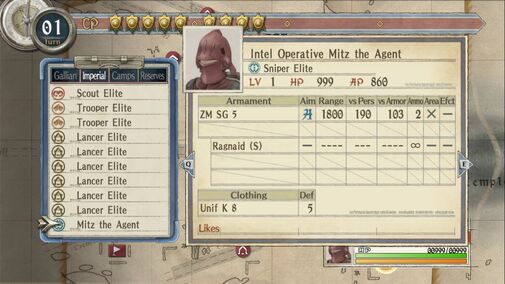 Location
Notes/Trivia
Like many aces in the challenge missions Mitz is an upgraded version of Mitz the Talker from the main game.
Like many enemy aces Mitz has very high evasion and must be attacked from behind or by a character with the undodgeable shot class potential in order for the player to have any chance of hitting him.
Mitz the Agent can be defeated using the smokescreen trick, simply deploy a smokescreen using the Edelweiss and engage him through it, he will not be able to see his attacker and therefore will never dodge.
Has an Imperial elite scout's AP, making it the highest of any enemy sniper in the game, and potentially a leftover of when he was encountered as a scout.
Community content is available under
CC-BY-SA
unless otherwise noted.