Matz the Cleaner (掃除屋マッター, Sōjiya mattā?) is an Assault Tank Ace found in Valkyria Chronicles 4. He is a recurring Ace, being a return of the Imperial Tank Destroyer Ace Matz the Cleaner from the first game. He protects one of the Imperial camps in the battle mission Versus Ausbruch.
Gameplay
Matz's Assault Tank starts out below and to the right of Crymaria Levin at the Imperial camp above Squad E's starting area. His is immediately visible at the start of the mission.
Oddly, Matz's tank has level 1 armament despite Ette of the Icefield having level 2 weapons: this is either an error and he was intended to have level 3 weapons, or for balance purposes so a level 3 Assault Tank and the Vulcan Procus aren't both in the starting area. As with previous Assault Tank Aces, Matz's tank has more HP than any standard Assault Tank variant, and the Body Def of a level 4 variant.
The Cactus or Glory can easily reach his tank on the first turn to target his radiator: if the former, the APC can use Demolition Boost to take care of him. The real challenge then is survival, as Matz's position is extremely exposed and any vehicle remaining there is likely to take fire from both Crymaria and the Vulcan.
Stats and equipment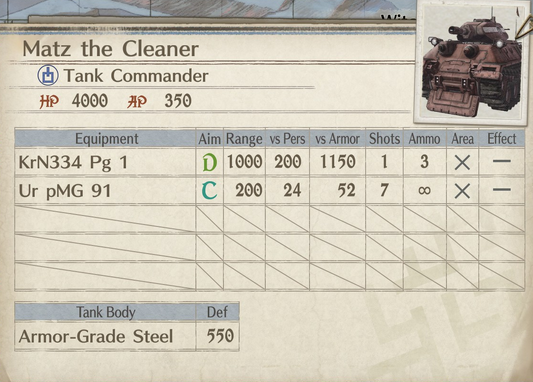 Location
Reward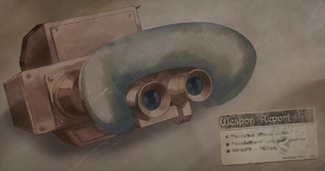 Defeating Matz rewards the player with the Tank Upgrade "Firing Calculator" for the Hafen, a nicely compact 1x2 Part that grants +10 accuracy. This is a very useful Part, given it offers the same Accuracy bonus as the Part Rotating Periscope, while being one-third the size.
| Equipment | Part size | Effect |
| --- | --- | --- |
| Firing Calculator (Hafen) | 1x2 | Accuracy +10 |
Trivia
Community content is available under
CC-BY-SA
unless otherwise noted.