Mash the Hunter

The Hafen sights Mash's sniping spot.
Information
Affiliation
East Europan Imperial Alliance
Weapon Drop
ZM SG 2(e)
Voice Acting
Japanese
Not voiced
English
Not voiced
Mash the Hunter (人狩りマシター, Hito kari mashitā?) is a Sniper Ace found in Valkyria Chronicles 4. Mash the Hunter already appeared in the original Valkyria Chronicles and he is a recurring Ace in this game, with this being his first appearance. He turns up as part of the force blocking Squad E's path through the mountains in the battle mission Mountainous Retreat.
Gameplay
Mash is located on an inaccessible outcropping of rock during the final leg of the mission, after crossing the bridge. There is no way to get close to him and his position is likely to remain hidden until units cross onto the right-hand side of the map, by which point it is no longer really feasible to attack him from behind or turn him around.
While his dodge is only 35, he is alarmingly consistent in dodging sniper rifle fire: the most effective method of attacking him is to have a Grenadier shoot him, though his dodge seems to also have something of a blind spot when it comes to long-range Scout rifle fire.
Stats and equipment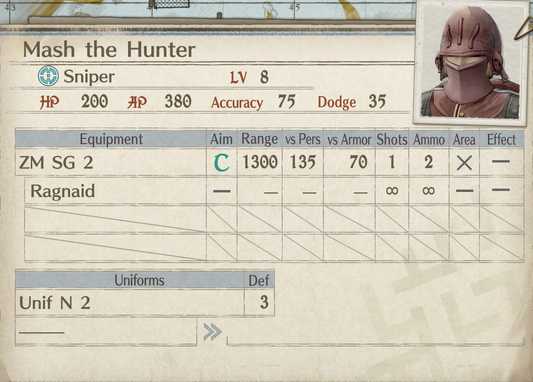 Has 8 total defense.
Location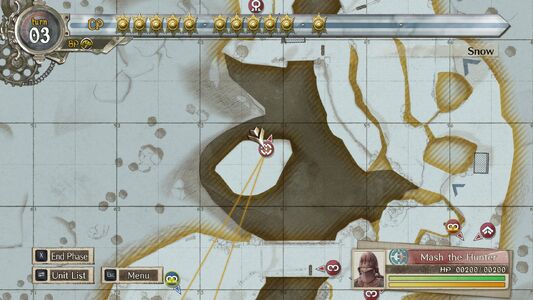 Reward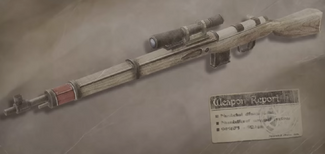 Defeating him rewards the player with a ZM SG 2(e), a low-level Imperial sniper rifle. It is just as accurate as his version and deals far more damage, at the cost of decreased range.
Like all captured Imperial sniper rifles, it trades range and accuracy for greater vs Pers hitting power: this is of limited practical use since a Sniper will typically be aiming for headshots anyway.
Note: intercept fire is only available for Sniper Elites (level 11 and above), this stat will not appear before then.
| Equipment | Aim | Range | vs Pers | vs Armor | Shots | Ammo | Area | Effect |
| --- | --- | --- | --- | --- | --- | --- | --- | --- |
| ZM SG 2(e) | C | 500 | 160 | 65 | 1 | 3 | X | - |
| Intercept Fire | D | 400 | 100 | 40 | 1 | ∞ | X | - |
Trivia
Community content is available under
CC-BY-SA
unless otherwise noted.