Mash the Hunted (百人狩りマシター, Hyakunin kari mashitā?) is a Sniper Elite Ace found in Valkyria Chronicles 4. He is the second form of Mash the Hunter, and is found in the engine room of the Centurion in the battle mission Battle Aboard the Cruiser. He is the final Ace found in the campaign.
Gameplay
Mash is found on the lowermost floor of the engine room on the right-hand side, in a dead-end past the objective marker. He can be spotted from the walkway above, and will deliver Interception fire against units on the right side of the walkways at the top of the map in Command Mode. He is deadly accurate and his rifle is extremely powerful.
Dealing with him is tricky due to his location and high evasion: because of this and his intercept and counter fire being so powerful, it is foolish to try to out-snipe him from one of the walkways. It is possible to attack him from above with a mortar-lance, grenade or rifle grenade by "feeling around" for him with the aim line, and if he has not spotted anyone this will count as a surprise attack.
Another option is to have Claude Wallace bring a Shocktrooper with him on his journey to the objective using Direct Command, and have the Shocktrooper run at Mash, aiming to get past him and turn him around. Using the Order "Defense Boost" can help protect them from Mash's interception fire. If Claude then hugs the right-hand wall as seen in Command Mode (left during gameplay), he can walk past the goal marker to close on Mash for the headshot.
Stats and equipment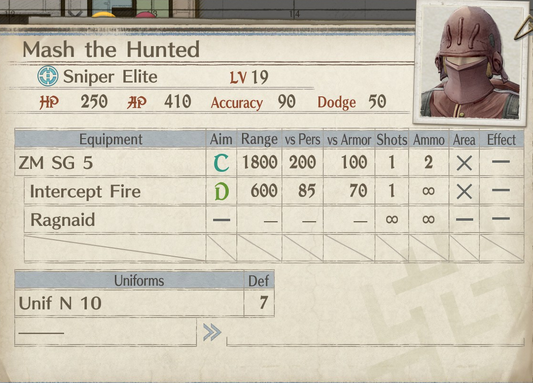 Has 15 total defense.
Location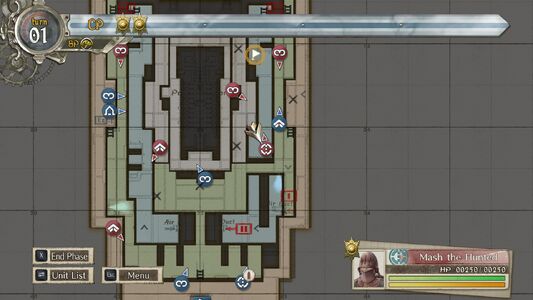 Reward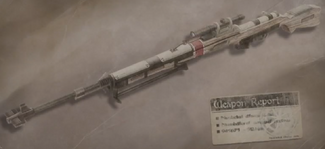 Defeating him rewards the player with a ZM SG 5(e), a high-level Imperial sniper rifle. His rifle has unusual alterations for a captured Imperial weapon: its primary fire is actually less powerful than his ZM SG 5, but more accurate. Interception fire on the captured ZM SG 5(e) is more powerful and accurate than the original, and has no comparable decrease in range.
Like all captured Imperial sniper rifles, it trades range and accuracy for greater vs Pers hitting power and superior zoom magnification, though the tradeoff is not nearly as extreme as early models. The ZM SG 5(e) is only slightly less accurate than the top-level LF Wasp and more so than the entire LF ASR series, while having only slightly lower range than the first LF ASR models.
| Equipment | Aim | Range | vs Pers | vs Armor | Shots | Ammo | Area | Effect |
| --- | --- | --- | --- | --- | --- | --- | --- | --- |
| ZM SG 5(e) | B | 750 | 190 | 80 | 1 | 3 | X | - |
| Intercept Fire | D+ | 600 | 120 | 50 | 1 | ∞ | X | - |
Trivia
His Japanese title is more along the lines of "hunter of hundreds."
He later reappears as Mash the Haunted.
Community content is available under
CC-BY-SA
unless otherwise noted.