Mash the Haunted

Mash, in the aftermath of an unpleasant encounter with the Centurion's cannons.
Information
Affiliation
East Europan Imperial Alliance
Weapon Drop
ZM SG X(e)
Voice Acting
Japanese
Not voiced
English
Not voiced
Mash the Haunted (千人狩りマシター, Sen-ri kari mashitā?) is a Sniper Paragon Ace found in Valkyria Chronicles 4. He is the final form of recurring Ace Mash the Hunter, promoted all the way up to a level 35 Sniper Paragon. He is encountered in the second Challenge Skirmish.
Gameplay
Mash is stationed on a rocky outcropping overlooking the central area where Crymaria Levin and Vulcan Procus start out, and is visible from the start of the level. He starts out crouching in cover, he essentially never misses, and his rifle is deadly. The sheer amount of enemy firepower concentrated in the level coupled with two souped-up boss enemies makes getting to him a nightmare, particularly since any such attempt requires the player to leave at least one of the bosses alive while their units work their way to him.
Unfortunately for him, the optimal strategy for this mission requires that the Hafen move forward to fire a smoke round at Crymaria, and at this point Mash is within range of the Ship Order "Bombardment." This goes about as well for him as one would expect it to.
Stats and equipment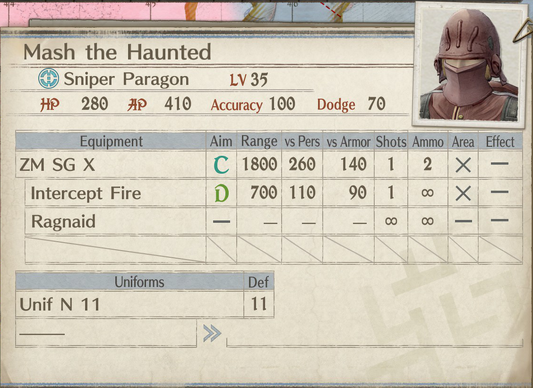 Has 15 total defense.
Location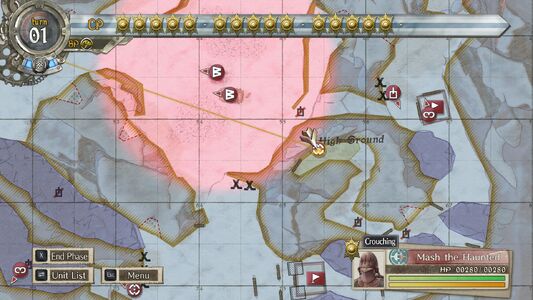 Reward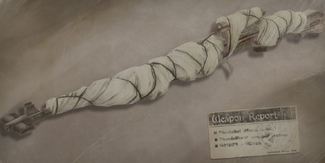 Defeating him rewards the player with a ZM SG X(e), the highest-level anti-infantry Ace sniper rifle. It is just as accurate as the top-level LF Wasp while dealing far more damage, though it has inferior range.
It is less powerful and shorter-ranged but more accurate than the version Mash uses, not that his rifle's accuracy matters to him when his innate accuracy stat is 100.
It also benefits from an excellent level of zoom: it is about as powerful without Eagle Eye triggering as an LF-ASR No. 10 is when Eagle Eye does trigger.
| Equipment | Aim | Range | vs Pers | vs Armor | Shots | Ammo | Area | Effect |
| --- | --- | --- | --- | --- | --- | --- | --- | --- |
| ZM SG X(e) | B+ | 800 | 215 | 90 | 1 | 3 | X | - |
| Intercept Fire | C | 700 | 130 | 60 | 1 | ∞ | X | - |
Trivia
His Japanese title is more along the lines of "hunter of a thousand people."
His level only being 35 is a little odd given the normal Sniper Paragons in this mission are level 40.
The model for the ZM SG X(e) is also used for the ZM SG X2(e).
Community content is available under
CC-BY-SA
unless otherwise noted.