Maht the Mechanic (マータ技術士官, Māta gijutsu shikan?) is a Grenadier Elite Ace found in Valkyria Chronicles 4. He appears in the Squad Story "Love and Logic," in the battle mission The Infatuation Game.
Gameplay
Maht is located just to the left of the Imperial camp at the lower-right when viewed in Command Mode, in almost the exact same area where a Grenadier appeared accompanying the Vulcan in Chapter 8: The Crystal Sea - Part 2.
If playing the mission the "right" way (ie, without deploying reinforcements) he should be targeted using either Aoife or Jascha Alatt: the ideal tactic is to give one of these an Elias and the other a Hartman or Sanders mortar, and the latter should be used to target him. The best way to set this up is to goad Maht into firing Interception fire at Hanna Carroll since, as a Lancer, she is virtually immune to his weapon. Once he fires, his position will be revealed on the map, and the player is free to move their chosen Grenadier into position to take him out: as long as the Grenadier does not move within Maht's 90-degree frontal arc, he will not turn to start firing at them.
Of course since this mission has a functional allied base camp, the easiest way to deal with him is to deploy a Scout Leader (either Minerva Victor or the player's own appointed Leader) and have them make their way to him and shoot him in the back. As a Grenadier, he will stop turning to face the Scout once they are under his weapon's minimum range.
Stats and equipment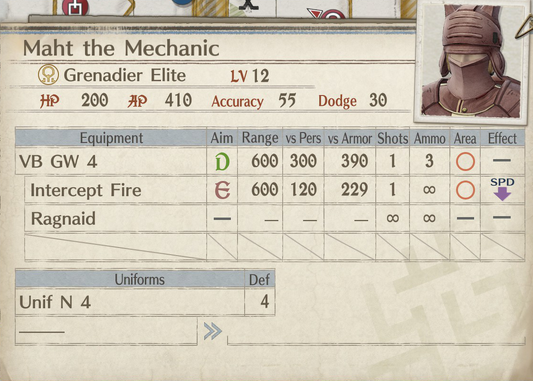 Has 15 total defense.
Location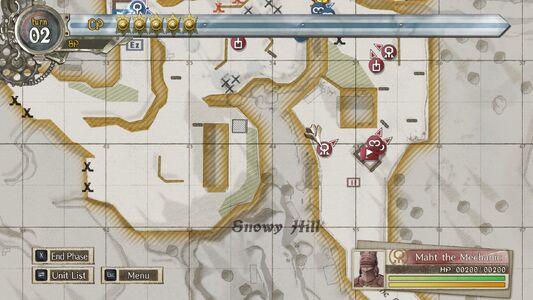 Reward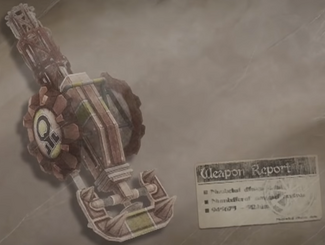 Defeating him rewards the player with a VB GW 4B(e), a mid-level Imperial anti-tank Mortar: this is a little strange since Maht himself does not even have an anti-tank Mortar, instead using a perfectly ordinary VB GW 4 general-purpose Mortar. Like most other captured Imperial Mortars, its Interception fire is more accurate than its aimed fire.
It is significantly more powerful than the Elias-series mortars the player is likely to have access to at this point in the game (indeed, it is more powerful than all but the final Elias model), at the cost of range and precision. Curiously, despite being an anti-tank mortar it has the Speed Down status effect on its Interception fire. This also means it can continuously damage tanks while they're moving without immediately stopping them.
| Equipment | Aim | Range | vs Pers | vs Armor | Shots | Ammo | Area | Effect |
| --- | --- | --- | --- | --- | --- | --- | --- | --- |
| VB GW 4B(e) | E+ | 450 | 200 | 1480 | 1 | 3 | O | - |
| Intercept Fire | D | 450 | 160 | 1200 | 1 | ∞ | O | |
Community content is available under
CC-BY-SA
unless otherwise noted.