Macho Tavaciel

Minerva Victor comes across Tavaciel's corner
Information
Affiliation
East Europan Imperial Alliance
Weapon Drop
Raz's Swimsuit
Voice Acting
Japanese
None
English
None
Macho Tavaciel is a Trooper Elite ace in Valkyria Chronicles 4. He is one of four aces encountered in the first map of the "Squad E, to the Beach!" DLC, Raiding the Base.
Gameplay
Tavaciel is positioned in the north half of the map next to a indestructible barrier and cargo crate with a lancer guarding the only entrance to his hiding spot.
Despite being classed as a Trooper Elite, he has the AP of a regular shocktrooper. While he has higher health and defense compared to the other troopers, his accuracy is much worse.
Defeating him is required to progress the DLC.
Stats and equipment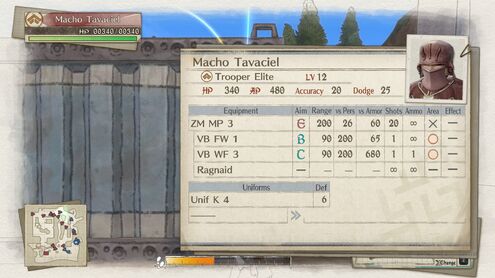 Has 20 total defense.
Location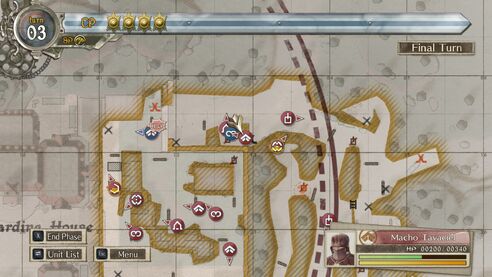 Reward
Defeating him drops Raz's swimsuit and the cutscene associated with it. This also contributes to progressing the DLC.
Trivia
Community content is available under
CC-BY-SA
unless otherwise noted.