Machere the Wily

Curtis Blackwell finds Machere's position
Information
Affiliation
East Europan Imperial Alliance
Weapon Drop
VB GW 8(e)
Voice Acting
Japanese
None
English
None
Machere the Wily is a Grenadier Paragon ace in Valkyria Chronicles 4. He is found in the sixth and final Expert Skirmish map Clash Between Elite Squads.
Gameplay
Machere is found at the southernmost part of the map past the SW Imperial camp. He uses a modified VB GW 8 that deals more damage compared to what the other grenadiers have, though it has no status effect on its interception fire.
Since his dodge chance is on par with the other grenadiers, there are various ways he can be dealt with such as using snipers on the high ground, outranging him with Hartmann series mortars, or using the side passages to get around him.
Stats and equipment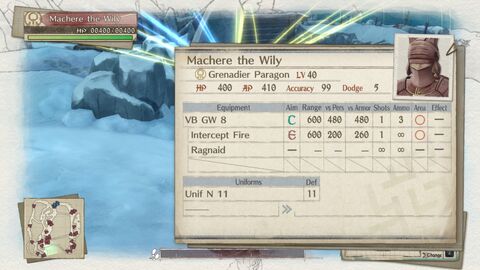 Has 27 total defense.
Location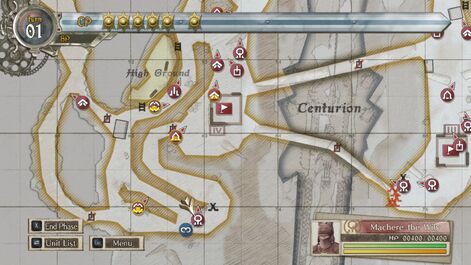 Reward
Defeating him drops the VB GW 8(e), a mortar that deals massive damage to both infantry and armored units, though at a cost to ammo capacity, accuracy, and ability to deal status effects from its interception. Compared to the version Machere uses, it's an improvement to every stat besides ammo capacity and base accuracy for the main rounds.
Its vsPers damage abilities among grenadier mortars is only outclassed by the VB GW 6(e), and the Hartmann MS12-13 for interception fire.
It has the highest vsArmor damage among mortars in the game, and the lack of status effects means it can continuously damage tanks when they're moving without forcing them to stop.
| Equipment | Aim | Range | vs Pers | vs Armor | Shots | Ammo | Area | Effect |
| --- | --- | --- | --- | --- | --- | --- | --- | --- |
| VB GW 8(e) | E+ | 600 | 720 | 2300 | 1 | 1 | O | - |
| Intercept Fire | E+ | 600 | 340 | 1400 | 1 | ∞ | O | - |
Trivia
The VB GW 8(e) uses the same model as the VB GW 5, 6, & 7.
While it has only 1 shot before needing an ammo refill, this can be offset if the character is equipped with an accessory that gives additional ammo.
Community content is available under
CC-BY-SA
unless otherwise noted.