Larz the Reaper (断末魔のカーズ, Danmatsuma no kāzu?) is a Shocktrooper Ace found in Valkyria Chronicles 4. He appears in Normal Skirmish 3: Siegval Line 1, and is more or less a copy of the game's first Shocktrooper Ace, Volatile Monamor.
Gameplay
Larz the Reaper is located about halfway along the high path across the middle of the map, next to where the higher of the two bunkers facing Squad E's base camp was in Chapter 4: The Battle of Siegval - Part 2. He starts out facing towards the left side of the map as viewed in Command Mode.
Larz has the same weapon stats as Monamor. His HP is actually lower despite his higher level, but his accuracy and dodge are both slightly higher.
He is easily dealt with by bringing up a Grenadier, or firing a rifle grenade at him if the player's Scouts are above level 11. His still-mediocre dodge rating also means simply shooting him is quite likely to succeed.
Since he wields a duplicate weapon, killing him is not actually necessary to getting the "Excellence in Armament" Medal if Volatile Monamor has already been defeated.
Stats and equipment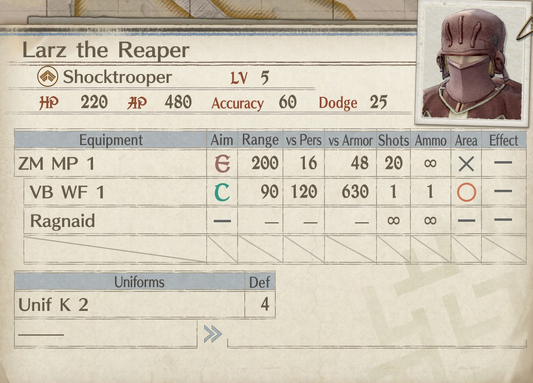 Has 15 total defense.
Location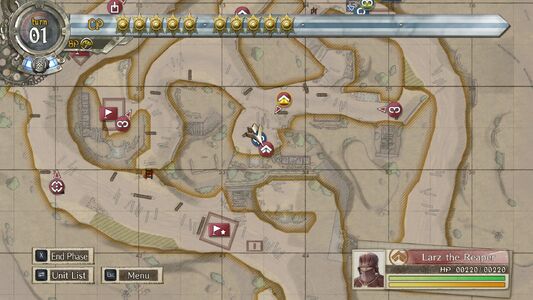 Reward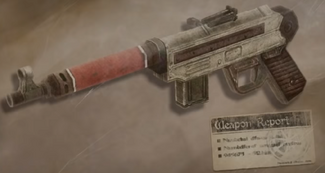 Defeating him rewards the player with a ZM MP 1(e), a low-level Imperial Machine Gun with the range shortened to an absurd degree compared to his weapon (given grenades have a range of 90, a Shocktrooper could literally throw the bullets further) but over double the vs Pers damage and slightly improved accuracy.
Like almost all captured Imperial Machine Guns, it trades range and accuracy for greater vs Pers hitting power.
The Shocktrooper Ace Volatile Monamor in Chapter 3: Rangers in the Storm - Part 1 shares Larz's weapon drop, meaning the player can have two of these weapons in stock.
| Equipment | Aim | Range | vs Pers | vs Armor | Shots | Ammo | Area | Effect |
| --- | --- | --- | --- | --- | --- | --- | --- | --- |
| ZM MP 1(e) | E+ | 80 | 33 | 45 | 20 | ∞ | X | - |
Community content is available under
CC-BY-SA
unless otherwise noted.