Keel the Chiliarch

Nikola Graf finds the Chiliarch and prepares to keel him.
Information
Affiliation
East Europan Imperial Alliance
Weapon Drop
ZM Kar 4(e)
Voice Acting
Japanese
Not voiced
English
Not voiced
Keel the Chiliarch (千人隊長キーム, Sen'nintaichō kīmu?) is a Scout Elite Ace found in Valkyria Chronicles 4. He appears in Normal Skirmish 9: Breaking Ice Shelf, and is more or less a copy of the Scout Elite Ace Secret Agent Saki.
Gameplay
Keel is located in a small cave off to the right of the Imperial base camp as viewed in Command Mode. He has a lot more health than his counterpart and has slightly higher accuracy, though his dodge rating has been downgraded slightly compared to Saki's.
He faces the entrance to the cave, so there is no real way to sneak up on him and it is tricky to turn him around. It is best to attack him with weapons that will deal heavy damage even if he dodges, such as tank mortars or mortar-lances. An alternative method is to have the Hafen fire a smoke round at him, since this will force him to treat a frontal attack as a Surprise Attack and negate his dodge rating.
Since he wields a duplicate weapon, killing him is not actually necessary to getting the "Excellence in Armament" Medal if Secret Agent Saki has already been defeated.
Stats and equipment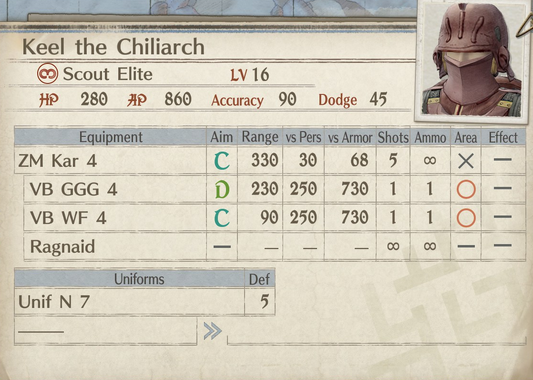 Has 15 total defense.
Location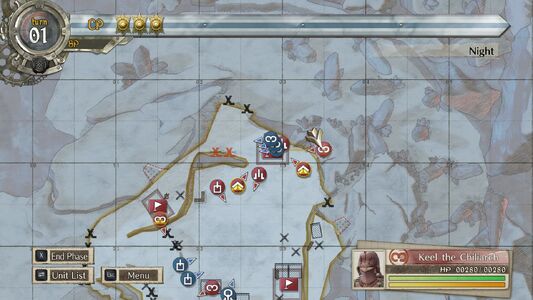 Reward
Defeating him rewards the player with a ZM Kar 4(e), a high-level Imperial Rifle shorter-ranged and less accurate but vastly more powerful than the ZM Kar 4 he uses himself.
Like all captured Imperial rifles, it trades range and accuracy for greater vs Pers hitting power.
The Scout Ace Secret Agent Saki in the Squad Story To Live Unbound shares Keel's weapon drop, meaning the player can have two of these weapons in stock.
| Equipment | Aim | Range | vs Pers | vs Armor | Shots | Ammo | Area | Effect |
| --- | --- | --- | --- | --- | --- | --- | --- | --- |
| ZM Kar 4(e) | D | 200 | 52 | 60 | 5 | ∞ | X | - |
Trivia
His Japanese title just translates to "A Thousand Captain."
"Chiliarch" is a military rank from ancient Macedonia, where it designated the leader of a unit of 1,024 men. In the later decimalized Achaemenid Persian military it deonated the leader of a thousand men, and this is its most common use. It is essentially the ancient counterpart to the rank of Major.
Community content is available under
CC-BY-SA
unless otherwise noted.