Kaye the Traitor

Chiara Rocino lines up her shot on Kaye
Information
Affiliation
East Europan Imperial Alliance
Weapon Drop
ZM Kar 7(e)
Voice Acting
Japanese
None
English
None
Kaye the Traitor is a Scout Paragon ace in Valkyria Chronicles 4. He is found in the ninth and final Hard Skirmish mission From the Capital.
Gameplay
Kaye is positioned by some sandbags to the west of the western archway besides two Heavy Gatlings, guarding the approach to the south entrance to the Imperial base camp. On top of that, there are two Assault Tanks, two Heavy AT Cannons, and two Lancer Paragons just in front of their position.
He has an extremely high dodge chance, making it virtually necessary to have someone turn him around to make it possible to land a surprise attack on him. Alternatively, if the player has maxed out the Centurion's cannons, it does the perfect amount of damage to kill him in one shot provided the Hafen has advanced far enough into range.
Stats and equipment
Has 25 total defense.
Location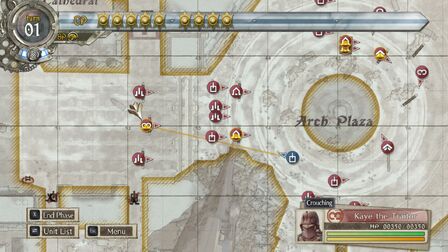 Reward
Defeating Kaye rewards the player with the ZM Kar 7(e), a short ranged but hard hitting Imperial scout rifle. It has 110 less range, lower accuracy and vs Armor but nearly double the vs Pers damage.
| Equipment | Aim | Range | vs Pers | vs Arm | Shots | Ammo | Area | Effect |
| --- | --- | --- | --- | --- | --- | --- | --- | --- |
| ZM Kar 7(e) | C | 220 | 70 | 75 | 5 | ∞ | X | - |
Trivia
The ZM Kar 7(e) uses the same model as the Kar 5, 6 and 8.
Community content is available under
CC-BY-SA
unless otherwise noted.