Kanz the Acolyte (カンジィ補佐官, Kanji~i hosa-kan?) is a Grenadier Paragon Ace found in Valkyria Chronicles 4. He appears in the post-game Squad Story Reluctant Solitude, in the battle mission Scrap Metal Jacket.
Gameplay
Kanz is located in a fenced-in area on the lower level where Stahlschrott and Louffe start out, in the shadow of the bridge at the bottom of the "high" deployment area on the Command Mode map. An indestructible metal barrier is used to deliberately limit Kanz's field of view so he will only attack units heading for the ladder up to the Imperial base camp.
His location makes getting behind him tricky, and impossible if doing the map the "right" way (ie only using Louffe and Stahlschrott and not, for example, calling in all of Squad E's Leader characters on the lower level at the first available opportunity). Since he has a dodge rating of 70, the best way to kill him off is to deploy Riley Miller with a Hartman-series Mortar on the top level, and have a Scout designated as a Leader up there with her to drag her into position.
If Kanz has not yet detected anyone, a strike from the side should still take him by surprise for the kill. It is also possible to hit him from the bridge by "feeling around" for him with the aim line on a rifle grenade or mortar-lance, though this is a very tedious procedure.
Stats and equipment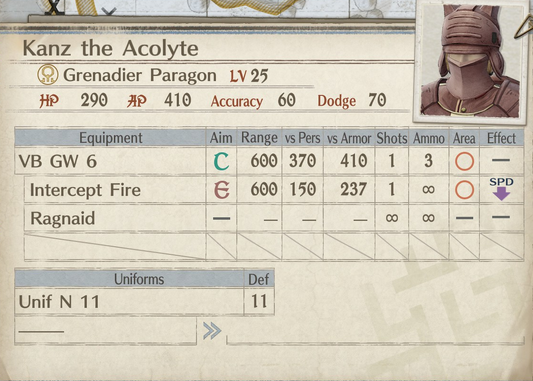 Has 20 total defense.
Location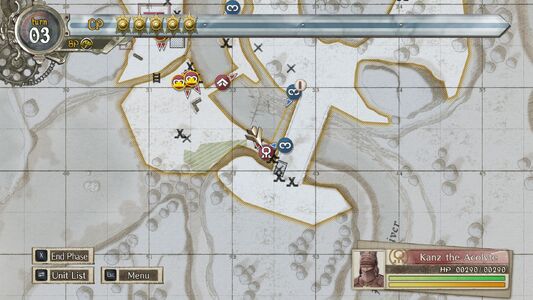 Reward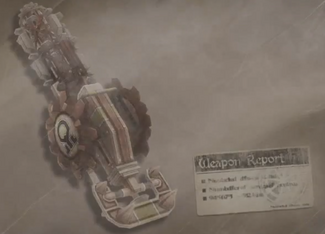 Defeating him rewards the player with a VB GW 7B(e), the highest-level Imperial anti-tank Mortar in the base game. This is a little strange since Kanz himself does not have an anti-tank Mortar, or even a GW 7. Instead, he uses a totally ordinary VB GW 6 general-purpose Mortar.
Like most other captured Imperial Mortars, its Interception fire is more accurate than its aimed fire.
It slightly exceeds the anti-tank power of the top-level Elias-series mortar and its range is only 50 shorter: its principle weaknesses are terrible accuracy and abysmal vs Pers on its primary fire, even compared to the Elias series. Curiously, despite being an anti-tank mortar it has the Speed Down status effect on its Interception fire, and while its primary fire has terrible vs Pers there is almost no difference between that and its Interception fire, which makes it as good as the Intercept fire of a mid-level Hartman antipersonnel Mortar.
| Equipment | Aim | Range | vs Pers | vs Armor | Shots | Ammo | Area | Effect |
| --- | --- | --- | --- | --- | --- | --- | --- | --- |
| VB GW 7B(e) | E+ | 500 | 240 | 1550 | 1 | 3 | O | - |
| Intercept Fire | D | 500 | 220 | 1000 | 1 | ∞ | O | |
Trivia
The model for the VB GW 7B(e) is the same one used for the VB GW 5(e), and is also used for the VB GW 6(e) and VB GW 8(e).
Community content is available under
CC-BY-SA
unless otherwise noted.