Kajmir the Watcher (観測士カージマ, Kansoku-shi kājima?) is a Grenadier Ace found in Valkyria Chronicles 4. He is part of the initial strike force attacking Lindbergh Base in the battle mission Withdrawal From Lindbergh.
Gameplay
Kajmir is located directly above the base immediately in front of the Hafen's starting location, through the wall of flames. He starts out facing towards the right-hand side of the Command Mode map.
Like any other enemy Grenadier, he has a 90-degree sighting arc to his front, and can only turn to face opponents who are outside of his Mortar's minimum range. Once they get too close for him to fire at them, he will remain stationary like a Lancer or non-Elite Sniper.
He is very easy to deal with using the Hafen's machine gun, and any forces that immediately head towards the camp below him are unlikely to cause Kajmir to open fire, allowing them to walk over to him and shoot him in the back of the head.
Stats and equipment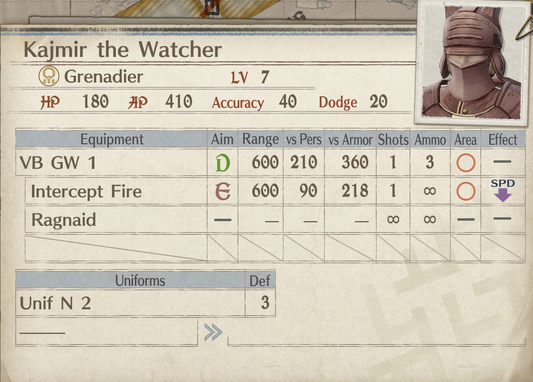 Has 5 total defense.
Location
Reward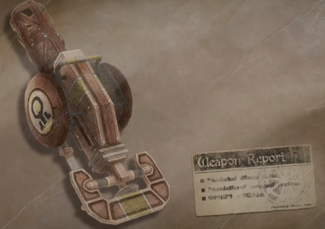 Defeating him rewards the player with a VB GW 1(e), a low-level Imperial Mortar less accurate and shorter-ranged but more powerful than the VB GW 1 he uses himself, and with the vs Armor of the primary fire mode halved.
It shares an oddity of many of the (e) versions of Imperial Mortars, in that its Interception fire is actually more accurate than its normal fire.
| Equipment | Aim | Range | vs Pers | vs Armor | Shots | Ammo | Area | Effect |
| --- | --- | --- | --- | --- | --- | --- | --- | --- |
| VB GW 1(e) | E | 450 | 380 | 180 | 1 | 3 | O | - |
| Intercept Fire | E+ | 450 | 160 | 240 | 1 | ∞ | O | |
Community content is available under
CC-BY-SA
unless otherwise noted.