These are the merchandise for Isara Gunther, a character from Valkyria Chronicles.
Figures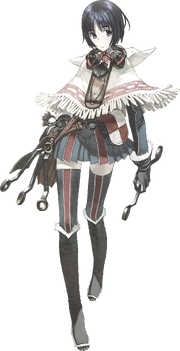 "The sensitive Isara Gunther is reproduced in details as the girl in charge of maintenance and driving the Edelweiss tank. Her expression wears transiency, yet her feature gives you an impression of her strong will! Also her costume, bag, and tools are carefully curved to differentiate its real texture. Carefully observe this fine molding!"
—Volks Store Description
A figure of Isara titled "CharaGumin Isara Gunther - Valkyria Chronicles 1/8th Scale Garage Kit" was initially released on 08/23/2014 and rereleased on 09/06/2014 and 10/19/2014 by figurine producer, CharaGumin. It was manufactured by Volks, Inc. The Isara figure is approximately 18.5cm tall. It was sculpted by Zoukei-Mura Inc. It contains 54 parts, including the eye decals.
Community content is available under
CC-BY-SA
unless otherwise noted.