Iron Wall Cattady

Raz finds Cattady's location
Information
Affiliation
East Europan Imperial Alliance
Weapon Drop
Minerva's Swimsuit
Voice Acting
Japanese
None
English
None
Iron Wall Cattady is a Scout Elite ace in Valkyria Chronicles 4. He is found in the second map of the "Squad E, to the Beach!" DLC, Bathing Suits and Bullets.
Gameplay
Cattady is located on the west end of the map at the end of the passage besides sandbags and beneath grenadier cover. Getting to this location requires fighting through either the left or right hand side of the map from the Federation base camp along with the units defending the pathway where he's located.
Despite being classed as a Scout Elite, he has the AP of a regular scout. He also has worse accuracy, but higher HP, defense, and dodge compared to other scouts in the map.
He will take action if any units are within his attack range, and will also start moving if he's been displaced from his location by a grenade or mortar lance.
Defeating him is required to progress and complete the DLC.
Stats and equipment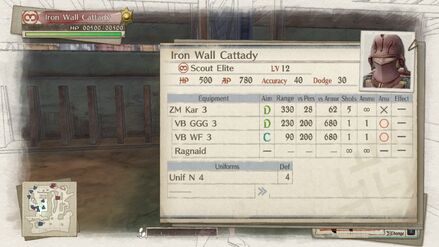 Has 20 total defense.
Location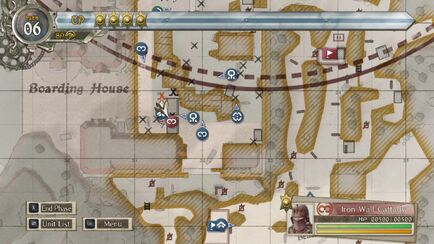 Reward
Defeating him drops Minerva's swimsuit and the cutscene associated with it. This also progresses the DLC.
Trivia
Community content is available under
CC-BY-SA
unless otherwise noted.