Investigator Ichas

A Squad E scout prepares to make Ichas pay for investigating the wrong direction.
Information
Affiliation
East Europan Imperial Alliance
Weapon Drop
Claude's Swimsuit
Voice Acting
Japanese
None
English
None
Investigator Ichas
is a
Scout
Elite
ace
in
Valkyria Chronicles 4
. He is one of four aces encountered in the first map of the "Squad E, to the Beach!" DLC, Raiding the Base.
Gameplay
Ichas can be found on the beach immediately to the west of Squad E's starting location, guarding the path leading inland. He does have a respectable dodge chance, but a character can easily make him turn around and expose himself to a surprise attack.
Oddly enough, despite being classed as a Scout Elite, he has the AP of a regular scout. Additionally, he has slightly higher HP along with dodge and defense but slightly worse accuracy compared to the other scouts encountered in the level.
Defeating him is necessary in order to progress the DLC.
Stats and equipment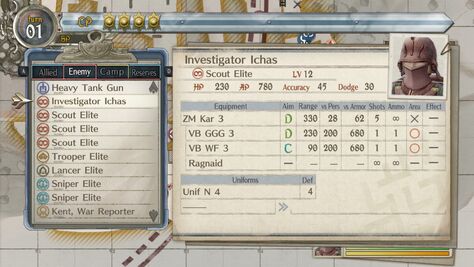 Has 18 total defense.
Location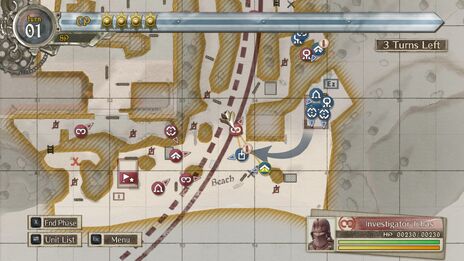 Reward
Defeating him gives the player Claude's swimsuit and the cutscene associated with it. This also contributes to progressing the DLC.
Trivia
Community content is available under
CC-BY-SA
unless otherwise noted.