Instructor Zenas (ゼナス練兵長, Zenasu renpei-chō?) is a Scout Paragon Ace found in Valkyria Chronicles 4. He appears in the post-game Squad Story "Soul of the Navy," in the battle mission Naval Spirits.
Gameplay
Zenas is visible from the start of the mission, on the walkway at the bottom end of the Centurion's engine room where the larger of the two Squad E teams deployed in Chapter 17: The Final Choice - Part 2.
He has a very mediocre dodge rating for an Ace, nevermind a level 25 Scout Ace, but his HP of 400 gives him a lot of staying power.
Dealing with Zenas is tricky since there is no easy way to take him by surprise: it is best to make Brian a Leader and have him use Direct Command to lead the other two down the right-hand side walkway (in Command Mode, left in gameplay), then spend the first turn at the very bottom of it taking out any troops that could reach the objective. Following this the squad should camp out a position in front of the engine with all three team members. Sergio Mousquelaire's Mortar-Lance is probably the best tool for dealing with him (particularly since shots from Lancers do not allow counter-fire), aside from letting him kill himself with either Brian Haddock or André Dunois' Interception fire or counter-fire.
If he is causing problems and the majority of other enemies, specifically the Shocktroopers on the left side of the map, have already been cleared out, the player can have Sergio move past him to turn him around.
Killing Instructor Zenas is actually mandatory, since the mission objective is to kill all enemies.
Stats and equipment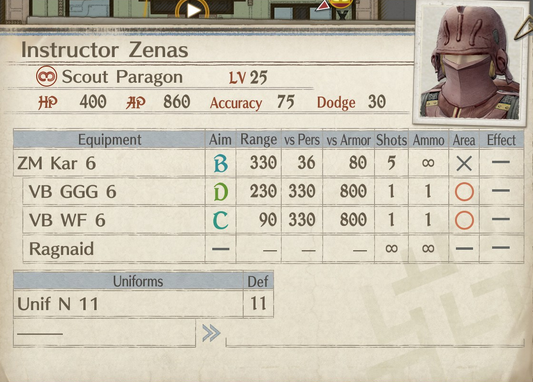 Has 30 total defense.
Location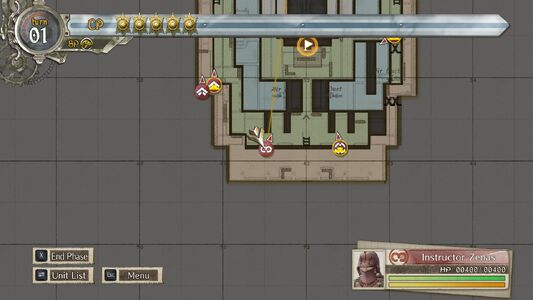 Reward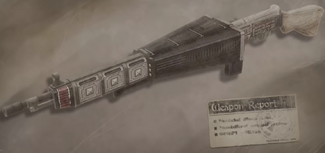 Defeating him rewards the player with a ZM Kar 6(e), a high-level Imperial Rifle shorter-ranged and less accurate but vastly more powerful than the ZM Kar 6 he uses himself.
Like all captured Imperial rifles, it trades range and accuracy for greater vs Pers hitting power.
| Equipment | Aim | Range | vs Pers | vs Armor | Shots | Ammo | Area | Effect |
| --- | --- | --- | --- | --- | --- | --- | --- | --- |
| ZM Kar 6(e) | D+ | 220 | 64 | 70 | 5 | ∞ | X | - |
Trivia
The model used for the ZM Kar 6(e) is the same as the ZM Kar 5(e), and is also used for the ZM Kar 7(e), ZM Kar 8(e) and ZM Kar X(e).
Community content is available under
CC-BY-SA
unless otherwise noted.