Inspector Muratus (監査官ムラタス, Kansa-kan muratasu?) is a Scout Ace found in Valkyria Chronicles 4. He appears in Normal Skirmish 4: Siegval Line 2, and is more or less a copy of the Scout Ace Field Agent Mors.
Gameplay
Inspector Muratus is found hidden in an area of long grass directly to the left of the enemy base camp as viewed in Command Mode. Despite being four levels higher than Field Agent Mors, all of the stats on his card are inferior, his only boost being he wears the next model of Imperial light armor.
The only real issue with Muratus is the he is so close to the objective that the player might not search the area: once he is found, it is a simple matter to throw a grenade at him to force him to stand up, whereupon a pair of Scouts or a Grenadier can easily deal with him. This does require a measure of caution since there is an Assault Tank close by.
Since he wields a duplicate weapon, killing him is not actually necessary to getting the "Excellence in Armament" Medal if Field Agent Mors has already been defeated.
Stats and equipment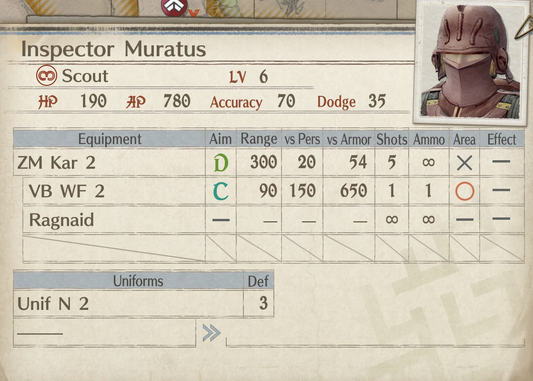 Has 10 total defense.
Location
Reward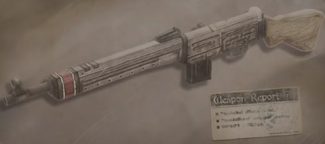 Defeating him rewards the player with a ZM Kar 2(e), a low-level Imperial Rifle shorter-ranged and less accurate but vastly more powerful than the ZM Kar 2 he uses himself.
Like all captured Imperial rifles, it trades range and accuracy for greater vs Pers hitting power.
The Scout Ace Field Agent Mors in the Squad Story Like Old Times shares Keel's weapon drop, meaning the player can have two of these weapons in stock.
| Equipment | Aim | Range | vs Pers | vs Armor | Shots | Ammo | Area | Effect |
| --- | --- | --- | --- | --- | --- | --- | --- | --- |
| ZM Kar 2(e) | E+ | 180 | 40 | 52 | 5 | ∞ | X | - |
Community content is available under
CC-BY-SA
unless otherwise noted.