Hummel the Pyro

Kai sights up Hummel through her scope
Information
Affiliation
East Europan Imperial Alliance
Weapon Drop
ZM MP 7(e)
Voice Acting
Japanese
None
English
None
Hummel the Pyro is a Trooper Paragon ace in Valkyria Chronicles 4. He is found in the eighth Hard Skirmish mission For the Centurion.
Gameplay
Hummel is located at the south end of the map right next to the destination point alongside another Trooper Paragon. Due to his high health and defense, even a maxed out flamethrower cannot kill him in one shot (assuming a +vsPer potential doesn't proc).
Even so, his dodge change is still comparable to the other Trooper Paragons in the map so he can still be grenaded or lancer mortared out of cover and finished off if he has HP remaining.
Stats and equipment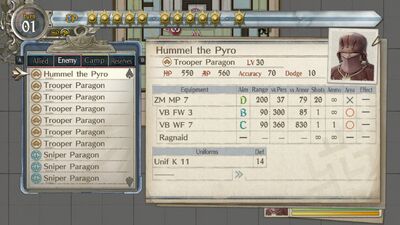 Has 38 total defense.
Location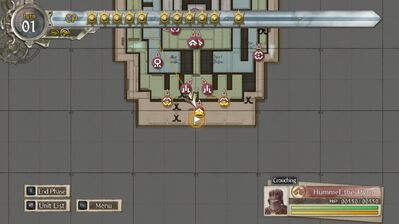 Reward
Defeating him grants the ZM MP 7(e), an SMG with 50 less range and 21 vs Armor, but similar accuracy and greater vs Personnel hitting power. This has the greatest base vs Pers damage among all shocktrooper SMGs in the game.
| Equipment | Aim | Range | vs Pers | vs Armor | Shots | Ammo | Area | Effect |
| --- | --- | --- | --- | --- | --- | --- | --- | --- |
| ZM MP 7(e) | D | 150 | 53 | 62 | 20 | ∞ | X | - |
Trivia
The model for the ZM MP 7(e) uses the same one as the ZM MP 5, 6, and 8.
Community content is available under
CC-BY-SA
unless otherwise noted.