Hawkeye Iris (鷹の目イリス, Taka no me irisu?) is the first Sniper Ace found in Valkyria Chronicles 4. He is found guarding one of the Imperial camps in the battle mission Breaking the Line 3.
Gameplay
Iris is found guarding the top-left camp as seen in Command Mode, and is guarded by two Scouts on the left (with a Mine placed on the path to the right of the first Scout) and by a Gatling Gun on the left side. He is positioned behind sandbags, but is not crouching.
He is facing the approach with the Scouts, but since he is only a regular Sniper he will not turn to follow characters that move within his line of sight, so it is a simple matter to have a Scout or Shocktrooper walk behind him and shoot him. Working through his rather formidable defenses is a much greater task than actually killing him.
It is also readily possible to kill him with a Grenadier, but given the Vulcan is in this mission it is likely the player's Grenadiers will be a little preoccupied.
Stats and equipment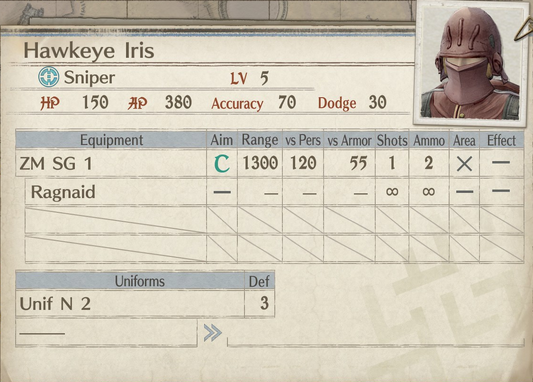 Has 5 total defense.
Location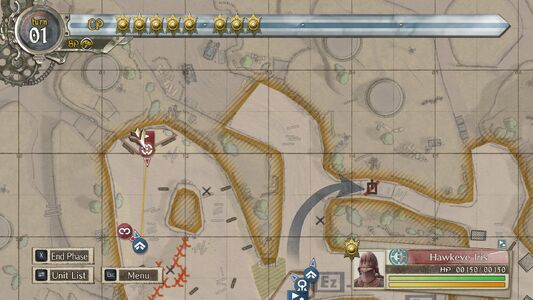 Reward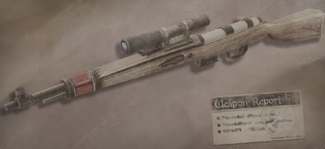 Defeating him rewards the player with a ZM SG 1(e), a low-level Imperial sniper rifle. It is just as accurate as his version and deals far more damage, at the cost of decreased range.
Like all captured Imperial sniper rifles, it trades range and accuracy for greater vs Pers hitting power: this is of limited practical use since a Sniper will typically be aiming for headshots anyway.
Note: intercept fire is only available for Sniper Elites (level 11 and above), this stat will not appear before then.
| Equipment | Aim | Range | vs Pers | vs Armor | Shots | Ammo | Area | Effect |
| --- | --- | --- | --- | --- | --- | --- | --- | --- |
| ZM SG 1(e) | C | 450 | 155 | 50 | 1 | 3 | X | - |
| Intercept Fire | D | 400 | 100 | 30 | 1 | ∞ | X | - |
Community content is available under
CC-BY-SA
unless otherwise noted.