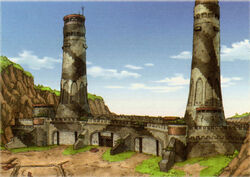 Ghirlandaio is a very mountainous area at the northern border of Gallia.
Information
Massive and stalwart, the Ghirlandaio fortress sits on the Gallian-Imperial border. Built in the middle ages as a castle along a key route linking Gallia to eastern Europa, it now stands as a modern fortress.
Following EW1, it served as a checkpoint controlling the flow of people and goods into and out of Gallia.
EWII
At the onset of EW2, Imperial forces of the 205th Armoured Division claimed it for use by Commander Maximilian and his top-echelon officers as a base of operations for the ensuing large-scale invasion. Elements of the Imperial 101st Division would remain in the fortress as garrison for the rest of the war.
After claiming the Citadel, the Empire outfitted its facade with powerful fixed cannons and began to use the structure as a storehouse for weaponry to be used in the Gallian incursion. In Valkyria Chronicles, the Citadel is a major two-part battle, beginning on October 7th, 1935, with Chapter 15: The Citadel at Ghirlandaio: Battle for Ghirlandaio and ending with The Citadel at Ghirlandaio: Selvaria's Last Stand.
In Valkyria Chronicles 3, the fortress is attacked twice by Squad 422. On mid-July 1935, the unit attempted to assassinate Maximilian, infiltrating the citadel and successfully exploiting the Empire's lack of preparedness. The attempt, however, was thwarted by Selvaria Bles, who used her Valkyrur powers to break the Nameless' assault.
The second assault by the 422nd happened on October 6th, when the squad helped Imca infiltrate the fortress, by staging a feint attack on the front walls. Imca fought a hard duel against Selvaria, who ultimately defeated her, and returned her to the Nameless, in exchange for their immediate retreat.
Unfortunately for Gallia, its greatest stronghold would be permanently destroyed by the suicide of Imperial High Command Brigadier General Selvaria Bles, when she, as a Valkyrur, used the Final Flame of the Valkyria to take out the Citadel and most of Gallia's Regular Army. Thankfully, the Militia had withdrawn mere hours before the explosion, escorting Imperial captives to prisoner camps.
Background
Community content is available under
CC-BY-SA
unless otherwise noted.